What we learned
We look back on the Australian Open and try to figure out what conclusions can be drawn from the first Grand Slam of the year
By Alex Williams
Last Updated: 28/01/14 9:39am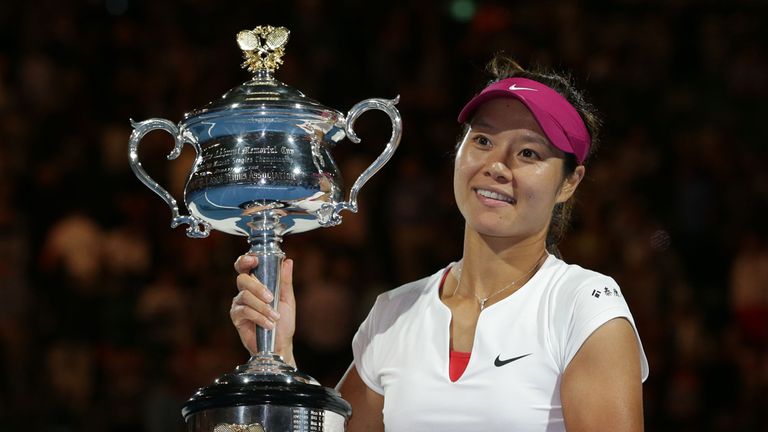 Stanislas Wawrinka was not tipped by many to triumph at Melbourne Park despite enjoying the best season of his career last year, while Dominika Cibulkova flew under everyone's radar in the pre-tournament predictions.
But Cibulkova ultimately did not walk away with the glory - that was reserved for Li Na, who cemented her status as one of the current generation's finest players by winning a second Grand Slam title.
The first major tournament of the year threw up talking points aplenty, and here are a selection of our conclusions:
The women's 'Big Three' is not all-dominant
For all the talk about the 'Big Four' which swept up 37 of the 40 men's Grand Slam titles on offer between 2004 and 2013, an even more select group had threatened to dominate the women's game for the foreseeable future. Excluding the bizarre sequence of events at Wimbledon in 2013, Serena Williams, Victoria Azarenka and Maria Sharapova had shared all of the major titles over the last two years between them.
Azarenka is the only player to have seemed genuinely capable of consistently challenging Williams when the American is fully fit, focused and firing, while Sharapova's resurgence included victory at the 2012 French Open. But the past fortnight in Melbourne has shown that Li and others have the potential to compete for the biggest honours in the sport. Upsets and anomalies happen, of course, but for all three of the star names to be well beaten relatively early on certainly hinted at something bigger.
Williams, who was edged out by Ana Ivanovic in the last 16, went into the tournament on a 22-match winning run and can't be expected win every time out no matter how good she is, but Azarenka and Sharapova were outplayed by Agnieszka Radwanska and Cibulkova respectively. Williams is still top of the tree with Azarenka her main adversary, while where the rest of the world's top players stand is in flux.
Wawrinka's win not is necessarily a game-changer
New Swiss No 1 Stanislas Wawrinka has joined Juan Martin del Potro, Marat Safin and Gaston Gaudio as the only players other than the previously mentioned 'Big Four' to win a Grand Slam in the past 10 years, and many are speculating he can go on to challenge the game's elite on a frequent basis from now on. Wawrinka even beat both the No 1 and 2 seeds - Rafael Nadal and Novak Djokovic - on his way to the crown.
But that does not mean the 28-year-old has cracked it at the very top. He had already taken Djokovic to five sets twice last year, losing on both occasions, and the same fate may have awaited him this time around had the Serb not missed the simplest of volleys on the first match point he faced. In the final against Nadal, the Spaniard could barely move after injuring his back. Wawrinka had already won a set - his first in 27 attempts against Nadal - when that happened, but Nadal has come back from a set down to win a Grand Slam final against Roger Federer before. He was clearly still in the contest.
That is not to say Wawrinka's victory should be attributed solely to luck, but he certainly had the breaks go in his favour. With a healthy Nadal, a refocused Djokovic and a resurgent Andy Murray he may struggle to get a look-in again.
Federer is better, but not at his best
There was a slightly unnerving moment after Federer's quarter-final victory over Murray when the Swiss player was asked how he dealt with losing the third set after winning the first two. "I had no choice but to stay out here and tell myself, 'I'm actually still in the lead, so it's not that bad'," he told on-court interviewer Jim Courier. He added: "Comparing (my confidence) to my good year? I don't know, it's much higher than last year."
The comment implied he was still not quite mentally as strong as he was during his prime and his semi-final performance against Nadal (and his third-set wobble against Murray) certainly supported that notion. Federer played some great tennis in Melbourne but he still does not seem to be able to fully assert himself in the crucial moments against the very best. After he lost a tight first set to Nadal the doubts and subsequent errors overcame him extremely quickly. Overall, Federer definitely looked better than he did at the end of 2013, but any suggestions he can legitimately get back to his best seem a little far-fetched.
Cibulkova has the tools to reach the top
It is easy to shrug off Cibulkova's run to final as a one-off fluke or, at best, the start of a solid top-10 career in much the same vein as Sara Errani's performance at the 2012 French Open. The difference, however, is that Cibulkova had a much greater pedigree than fellow pocket dynamo Errani prior to her big breakthrough. The Slovak reached the semi-final of the French Open in 2009 and the last eight at Wimbledon and the US Open prior to this year. She produces incredible power with such short levers and has always been a tough test for the top players.
Cibulkova is already 24 years old but Radwaknsa and Azarenka - two top-five players who are considered to have not yet reached their full potential - were also born in 1989. It is also relevant to point out that Li, who is now the proud owner of two Grand Slam titles, did not make much of an impact at the major tournaments until she was 27. Samantha Stosur and Francesca Schivone are other late bloomers to have won Grand Slams. Relatively older players can excel in modern tennis and the way Cibulkova coolly handled Sharapova and Radwanska hints at a very bright future.
Playing tennis in 40C heat is no joke
Headlines from the first week in Melbourne were dominated by the infernal temperatures the players had to compete in. For five straight days the mercury soared above 40 degrees Celsius, several players were in visible discomfort and there were a Grand-Slam record-equalling nine withdrawals in the first round.
The tournament's extreme heat policy was enacted just once, however, which was perfectly fine according to many critics and even tournament doctor Tim Wood, who said tennis was a "relatively low risk for major heat problems" compared to sports such as marathon running. It is perhaps true that nobody was in deep trouble from a life-and-death medical perspective but the reality is that tennis, with its repetitive interval sprints and explosive body movements, raises the body's core temperature to uncomfortable levels - maybe not a medical emergency but certainly a very real physical problem.
Should players suffering issues such as unavoidable dehydration, dizziness, nausea and hallucinations be told to suck it up? Every player who fought through the incredible heat deserves great credit and those who didn't should not be denigrated.