Davis Cup: Kyle Edmund has right attitude to thrive for Britain against USA
Why might Britain pick a teenager ranked outside the top 300 for the Davis Cup? Mark Petchey analyses...
Last Updated: 29/01/14 9:48am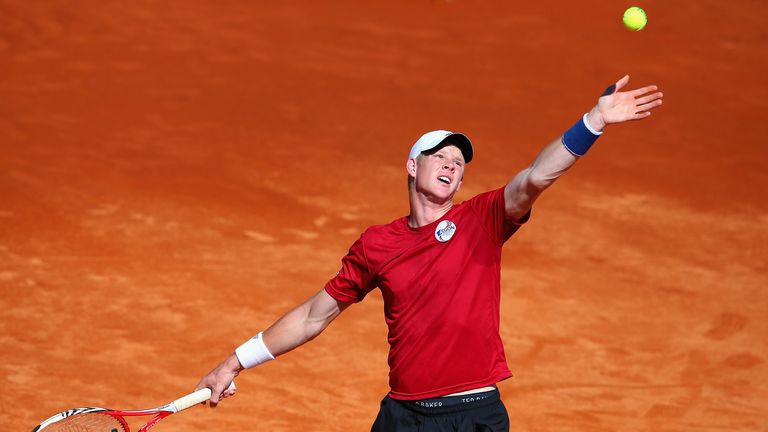 Murray, seemingly over a back injury after advancing to the last-eight stage at the Australian Open, will lead his country's charge and will be joined in the singles rubbers by either Kyle Edmund or James Ward following Dan Evans' omission.
Ahead of the tie in San Diego, which will be contested on clay, Sky Sports pundit Mark Petchey gave an insight into why 19-year-old world number 336 Edmund may be given the nod.
And he also explained why America, who last claimed the Davis Cup in 2007 with a squad including Andy Roddick and James Blake, may have decided to battle Leon Smith's side on the red dirt...
Hi Mark. Is it a shock to you that Dan Evans has been left out in favour of one of Jamie Ward and Kyle Edmund?
It is perhaps a slight surprise to outsiders considering how well Dan played at the US Open, where he got to the third round after beating Kei Nishikori and Bernard Tomic, and the class that he has, but Leon Smith has been pretty inspirational since he became Britain's Davis Cup captain and we have to respect his decision.
Edmund has seemingly been selected because of his ability on clay, so how good is he on the surface?
Kyle won a Futures Tour event on clay in America recently and also the Junior French Open doubles tiitle in 2013 so he has some pedigree. He is fully deserving of a big opportunity, but the fact he has got it and could now appear in the cauldron of a Davis Cup tie shows how highly regarded he is by Leon.
What are the weapons that have taken Kyle to this point?
What I really like about him is his phenomenal attitude. Out on the ATP Tour, a lot of guys have good forehands and backhands, a lot of guys can run, and a lot of guys can go in the gym, but putting it all together between the lines is not as easy as it seems. Kyle seems to be grabbing his chance quite early and understands that talent alone will only get you so far.
Is that something some players lack?
I'd say so. Talent can actually get you quite far - there are players with great ability but not great mental strength who have made good inroads - but to get right to the top you need to have all facets of the game, and at this stage of Kyle's development that's the one thing that stands out. He is extremely motivated to get the best out of every day he is on a tennis court and that's not necessarily a particularly British trait.
What can Kyle go on to achieve?
The millstone around his neck - which will stay around his neck for the next few years - will be the presence of Andy Murray. I hope for his sake that he is able to get somewhere near Andy but it will be difficult for him and other British players of his ilk because they will always be compared to Murray. He has to deal with that and shut it out but over the last two or three years, he has become someone tennis aficionados think can make something out of his career. The next 18 months, two years, will be crucial but if hard work pays off he'll do alright.
Are you concerned about Andy Murray possibly playing for three days straight?
Not really. Andy is one of the toughest guys you will ever meet and whether he is 100 per cent fit or not he'll be out there finding a way to be there for all three days. Murray's back was a lot better in Australia but in the back of his mind he will be wondering how it will cope with the switch from hard courts to clay. However, his biggest danger is not likely to be his back but the guys up the other end of the court.
What can we expect from the big-serving Americans Sam Querrey and John Isner on clay?
It was America's decision to play on clay and I think they opted for it because they feel it's the best way to get at Andy and the number two on the British team who, historically, has never been that strong on a clay court. They must feel Isner, in particular, can be as lethal on the surface with his serve as he is on a hard court but then have a few more chances to have a swing at Andy's. The choice of clay is logical.
If facing Isner and Querrey is tough, then, is tackling the Bryan brothers in the doubles an even more formidable challenge?
The Bryans are great on any surface but they are superb on clay and that could give them the edge in what may well be the pivotal match of the tie. It appears that Andy will partner Colin Fleming in the doubles, which may come as a surprise to some considering we have a few high-class doubles players in this country now, like Jamie Murray and Johnny Marray, who have elevated themselves to the upper echelons of that part of the game, but Andy's star quality and Colin's doubles acumen gives them a chance.
Will Britain do enough to progress into the quarter-finals?
I think that given the respective strength of both teams you have to class American as favourites going into it, but I wouldn't be surprised if Britain pulled off a pretty famous win and if they do the run may not end there. You can go very deep in - and sometimes win - the Davis Cup with one great singles player and either one great doubles team or a slice of luck. Let's hope we can do just that.