Route to the top
Dominika Cibulkova began 2014 with a stunning run to the final of the Australian Open. Now the Slovak aims to take the next step
By Alex Williams
Last Updated: 06/03/14 5:30pm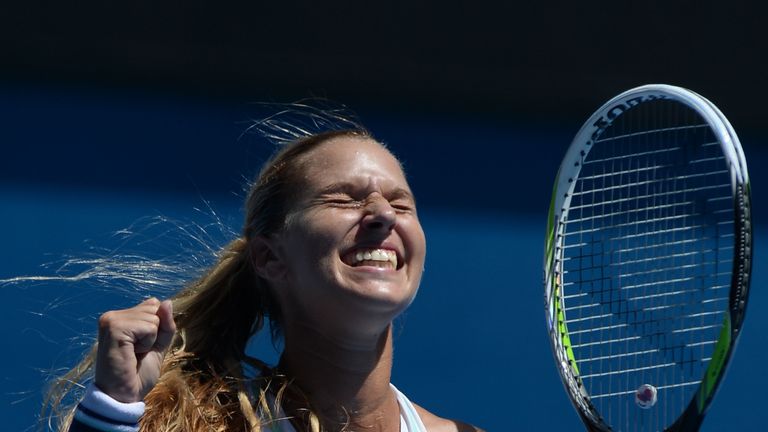 Cibulkova was a name many tipped as a future star in the transitional years of 2008 and 2009, when players from countries of the former Eastern bloc started to dominate the top 10 of the women's game.
But as former world No 1s Dinara Safina, Ana Ivanovic and Jelena Jankovic slid down the rankings, Cibulkova also struggled to build on a promising career which had seen her reach the semi-finals of the French Open and the final of the prestigious Rogers Cup within a month of her 20th birthday.
The best the diminutive Slovak managed in the preceding four years were three separate grand slam quarter-final defeats and three Premier tournament wins on the WTA Tour.
Cibulkova had established herself as a solid operator who may not have been able to fulfil her early potential, but a shock runner-up finish in Melbourne has catapulted her firmly back into the spotlight.
"I think it was a very important point in my career, I needed something like this in a grand slam," she told Sky Sports.
"Now I'm 100 per cent sure I can really do it and I really want to win a grand slam in my tennis career."
Having not gone past the third round of any of the major tournaments in 2013, the fairytale run was a timely reminder that Cibulkova has the talent to reach the top.
She added: "Of course it is something which gives you a lot of confidence but I don't want to put any pressure on myself. I played that well because I worked hard and went on the court to really enjoy it and to play the sport I love. That's when I play best."
Cibulkova became the first Slovak player - male or female - to reach the singles final of a grand slam since the country gained independence 21 years ago. Miloslav Mecir reached the final of both the Australian Open and US Open in the 1980s, but that was under the flag of Czechoslovakia.
"In Slovakia it was a pretty big thing. I was the only female or male from Slovakia to be in the final of a grand slam," said Cibulkova, who plays with the Dunlop Biomimetic M4.0 racket.
Popular
"Tennis is a very popular sport out here - ice hockey is first, then it's soccer, then tennis.
"They told me in a press conference that my match in the final - they were showing it on Slovak TV and over half a million people were watching.
"They said it was a record - never (had) so many people watched an individual sport. So it was really nice."
Unfortunately for Cibulkova, becoming the first Slovak to win a grand slam title proved one historic step too far as Chinese star Li Na clinched a 7-6 6-0 victory at Rod Laver Arena.
The huge television audience in Cibulkova's home country saw her give a teary post-match speech on court as the emotions of a career-defining fortnight were finally allowed to pour out.
"You have to hold your emotions for two weeks and be focused and be ready, so after (the final) there were so many emotions," she said.
"Of course I was really upset that I lost but then I thought, 'it's the final, it was great'. There were all these mixed emotions."
After a Melbourne hangover which included two losses in Slovakia's Fed Cup quarter-final tie with Germany and a first round exit in Doha, Cibulkova returned to form by winning the Abierto Mexicano Telcel as the top seed.
She now goes into the BNP Paribas Open in Indian Wells - the most prestigious tournament since the Australian Open - hoping to build on her promising start to the year.
But like any player it is grand slam glory which is the main aim. Has she peaked this year or will any of the three remaining slams give her an even better opportunity of landing major honours?
"We'll see but I really like Roland Garros - it's fast clay. In Australia this year the surface was a little bit faster and I like to play on a little bit of a faster surface and maybe that also helped my game."
Dominika Cibulkova plays with the Biomimetic M4.0 racket, available for £159.99. To view the full Dunlop Tennis range including rackets, equipment and apparel, visit Sportsdirect.com, like Dunlop on Facebook or follow on Twitter @DunlopSport