Rafa Nadal: How do you combat the eight-time French Open champion on a clay court?
Mark Petchey examines ahead of the European swing...
Last Updated: 11/04/14 2:59pm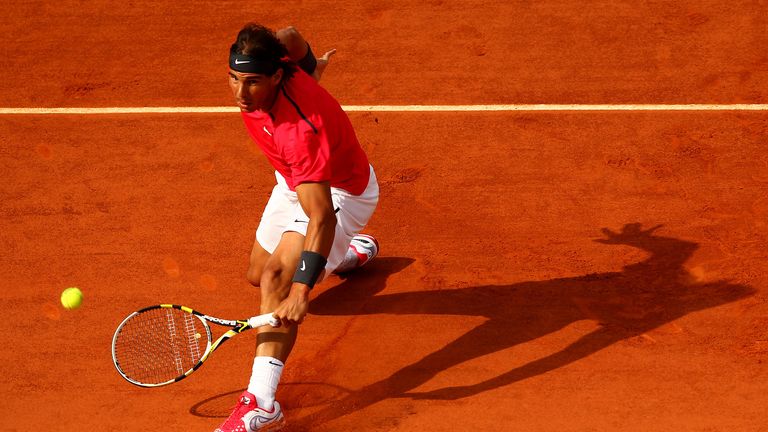 Novak is the one guy who everybody feels has the tools and the know-how to beat Rafa on the surface, having conquered him on it in Madrid and Rome in 2011 and in Monte Carlo last year.
Psychology is arguably more important on a clay court than on any other surface, as while the game has slowed down, the way you have to build points, pick your shots, and think your way through matches makes it harder to dominate on, making Rafa's record exceptional.
You have to be so precise and very few players have the patience, power and mental strength to take Rafa on but Novak - who, like a lot of players, has mastered clay but not Nadal - does.
It is difficult to break down Rafa's game on clay and say: 'Do this and you've got a chance' but the way Novak has managed to beat him is by attacking his forehand, something other players are unable to do against someone who moves so well.
Novak can also play a point, know there is another ball to hit, reset the point because it wasn't quite there, rally again and pinpoint Nadal's forehand, while because he takes the ball on the rise, he is able, to some degree, to smother the spin Rafa gets on the ball.
Chance
Djokovic will be confident that he can overcome Rafa next week, not just because he did here in straight sets in 2013 in a tournament the Spaniard had won the previous eight years, but because he has won their last three meetings, on the hard courts of Beijing, London's O2 Arena and Miami.
Novak will also be desperate to win because he knows that there is a chance, albeit a slim one, that he could rack up enough points over the clay-court swing to get back to World No.1 ahead of the French Open.
To do that, though, he will have to keep beating - or hope someone else beats - Rafa in the Masters 1000s on clay and that is easier said than done as Rafa is the best player of all time on clay and the best man I have ever seen on any one surface.
I know in some ways it is impossible to compare ages and lot of people will say if Bjorn Borg had the motivation that Rafa and Roger Federer have he could have gone done as the greatest player on a particular surface, but he didn't have the motivation.
Rafa, meanwhile, has lost just 21 of if 319 clay-court matches, won 59 out of 60 at the French Open - his only defeat came at the hands of Robin Soderling in 2009 - and has won at least three clay-court titles a season in the European swing since 2005.
He is in a universe of his own.
Substantial
The clay court part of the year, though, brings a lot of players into the mix and the likes of Fabio Fognini, Britain's nemesis in the Davis Cup, and Nicolas Almagro will be looking to make their move and pick up some substantial points.
I think, too, that there is a feeling on the tour that places in the latter stages of the Masters events and French Open are up for grabs with some of the top guys, Roger Federer and Andy Murray, slipping down the rankings.
It used to be that there was no gap in the draw and if you beat a Novak, for example, you had another huge player straight up next, but now a few little pathways are emerging and there is an opportunity for someone to make a name for themselves.
Tomas Berdych, of course, has already done that - he has made a Wimbledon final and the semis of each of the other Slams - but I feel he can have a very profitable clay-court season after deciding not to play in the Davis Cup for the Czech Republic.
He needs a good few weeks to get right up among the top four and I think he can do that because although he is a conventional mover, something that may have negatively affected him at points in his career, he is a massive hitter.
If Berdych's mind is tuned towards doing well, he certainly has the weapons to beat the top guys.