Madrid Masters: Rafael Nadal odds-against to defend his title after a recent dip in form
Tim Clement previews the Madrid Masters with Rafael Nadal odds-against after a recent dip in form.
Last Updated: 06/05/14 5:53pm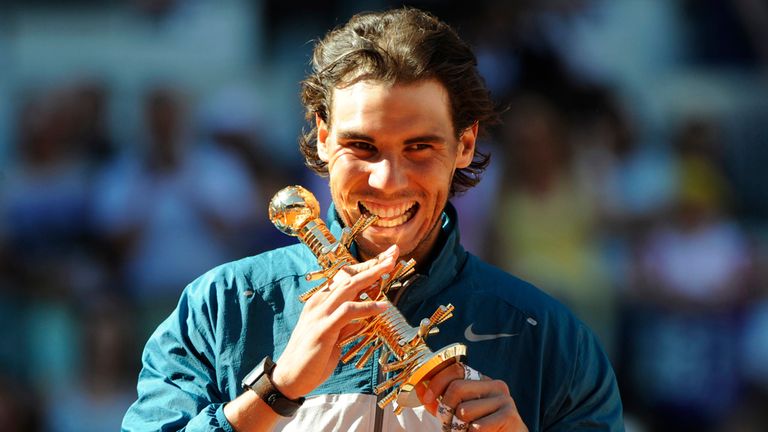 Those title retention chances are seemingly significantly boosted by Novak Djokovic's withdrawal, although it has been upsets to those previously less threatening who have shocked the tennis world by defeating the Spaniard in recent weeks.
A decade of dominance was defied in April, with Nadal losing to Ferrer on clay for the first time since 2004 at Monte Carlo and then for a first ever time to Nicolas Almagro in Barcelona.
With those strongholds conquered, talk of a crisis in confidence hitting the 'King of Clay' has emerged, but it is that self-doubt that created the relentless warrior that stands above all in the history of clay-court tennis.
The more significant difference might be the way his opponents approach a task which looks more improbable than impossible now, especially in an arena where he has been at his least dominant during the European red dirt swing.
Pre-2009 and 2012 can instantly be dismissed as they were hard and blue-clay (let's not go there) court events, leaving us with four editions for our form guides, with Nadal winning half, well below his usual dominant ratio on the surface.
Roger Federer and Djokovic have also prevailed here, with Nadal the losing finalist on both occasions, but who can upset the champion this week?
Stanislas Wawrinka bounced back from his post-Australian Open triumph lull to claim the Monte Carlo Masters title, making him Sky Bet's 4/1 second favourite in Djokovic's absence.
After Roger Federer withdrew as he awaits the birth of his next child, David Ferrer is next in line at 16/1, while Andy Murray, surely for the first ever time, is a bigger price than recent Barcelona winner Kei Nishikori (28/1 compared to 33/1).
The conditions
The court on the Caja Mágica (magic box) plays about as quick as you'll see during the European clay swing, with the increased altitude in Madrid speeding up the flight of the ball. This should enhance the prospects of the more attacking players, explaining Nadal's diluted dominance. The forecast suggests temperatures should be in the high 20s and even reach the 30s, although a fair amount of cloud is expected to be around.
Last year
Nadal continued his remarkable comeback with a 71-minute victory over Wawrinka, seeing off the Swiss 6-2 6-4. It was the Spaniard's seventh-successive final appearance since his layoff and a ninth successive straight-sets win over Wawrinka, who would have been celebrating his biggest ever win had he triumphed. How thing have changed...
The greatest ever clay-court player at odds-against to defend a title on the red dirt? Thank you very much. While the quicker conditions would usually add to the aforementioned concerns, his significant improvement on hard courts suggest that he is more than coping with a slight increase in pace. The key for Nadal is that he is able to remain aggressive, particularly on the big points, and not give his opponents the chance to attack. Nadal could have lost his no 1 ranking here had he gone out before the quarter-finals and Djokovic claimed the title - so the pressure is off slightly but he will still be desperate to return to top form.
As runner up here and the most recent Grand Slam and Masters champion, Wawrinka certainly warrants his position as second favourite. Confidence has always been the issue for a man who has spent the majority of his career in Federer's shadow but it surely couldn't be any higher right now. Wawrinka is more than comfortable on the surface, winning four of his seven titles on it, and will enjoy the quicker conditions. The fact that he has failed to even take Nadal to a tie-break in their five meetings on clay is the big concern, but the 29-year-old has made a habit of tearing up the form book in 2014.
The 32-year-old finally looked to be heading towards his decline with a poor start to 2014 but a shock win over Nadal showed what he is still capable of. However, results since have been disappointing to say the least, going down in straight-sets to Wawrinka in the Monte Carlo semis and then losing in his first match in Barcelona, also in straight sets to world no 52 Teymuraz Gabashvili. Has failed to make it past the quarter-finals in the last three years, although his loses have come to Nadal, Djokovic and Ferrer. Usually a steady rider, capable of taking advantage when the favourites fall, but such consistency has deserted him in 2014.
The Scot returns to action still without a coach and with few giving him a chance of landing the Madrid title, which would be his first since Wimbledon. The surface has all too often aggravated his back problems, so it should decipher as to whether his operation has had the desired impact. Realists will probably suggest that the most Murray can hope for from the clay swing is to regain some confidence and match practice heading to SW19, while he could also do with picking up some ranking points after slipping to eighth in the world. However, a potential second-round clash with Almagro could well see another early exit on the red dirt.
Best of the rest
Tomas Berdych and Fabio Fognini might have been mentioned above if they had not both imploded from first-set leads to lose finals in the Portugal Open and BMW Open respectively on Sunday. With all due respect, preparing to take on the very best by losing to Carlos Berloq or Martin Klizan is the opposite of ideal. Unlikely Berdych and Fognini, Nishikori and Dimitrov were able to collect their second titles of the season with wins in Barcelona and Budapest, propelling them into the category of interesting outsiders.
Prediction
With Djokovic out, Wawrinka has a superb chance of making the final at the very least. If he does get that far and Nadal has avoided any further upsets, the Spaniard will still have to be considered favourite, albeit a far softer one than last year. The outright is priced up far closer this time round, making the question whether you're happy to take Wawrinka at significantly shorter odds or Nadal at probably the biggest price he's been in a clay event lacking Djokovic and blue paint for a significant number of years. I'm going with the latter as I believe motivation has been a real issue for a player whose success has been based on his relentless drive. That will be back here as the voices of his doubters have grown louder. I also think Dimitrov and Nishikori are perfectly poised to continue their rises so will have them both each-way.
Best bets