Tennis Expert & Columnist
Mark Petchey pays tribute to Elena Baltacha
'Fearless' Elena Baltacha will be remembered for her spirit on and off the court, says Mark Petchey.
Last Updated: 06/05/14 6:05am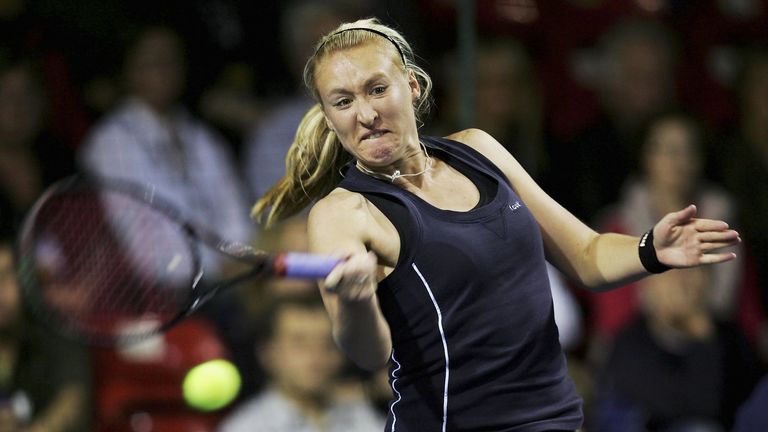 Baltacha's family announced on Monday that the 30-year-old had died of liver cancer.
The former women's British No 1. was diagnosed with the illness in January, just two months after retiring from tennis and only weeks after she married her long-time coach Nino Severino.
Petchey told Sky Sports News: "I remember this bundle of energy and this swashbuckling approach that really became her trademark.
"She was fearless. She went out there and took on life's obstacles not just obstacles in tennis and did it with a passion that was infectious.
"I think given the tributes that have been paid today you can see just how many people admired her for her spirit on and off the court.
"There are a lot of people who would have been in her situation and would have perhaps turned away because it's such a physical game and given what she'd been given to deal with that was the easier option. But that was never her way she was always going to try and find a way to fulfil her dream and she did that in abundance in many way on the tennis court."
Dreams
Petchey, former coach of British No.1 Andy Murray, added: "It's just horrifically sad today that she wasn't able to live out the rest of her life and the dreams that she had with the academy and all the other things she had going for her.
"She didn't moan. I think that was the one amazing thing that shone through about Bally that shone through the whole way.
"There are a lot of people who would feel sorry for themselves and wonder why it's happening to me and looked to excuses for why things weren't better than they were but that was not her way.
"Even though I was looking at her career from a distance you could feel that. You could sense just how much of a great person she was in terms of that personality.
"She probably fulfilled everything that she could have done given what she was having to deal with throughout the course of her career."
Role model
Barry Cowan also paid tribute Elena and said that she paved the way for the likes of Heather Watson and Laura Robson
"I certainly think that Elena was very good for Heather and for Laura," said Cowan on Sky Sports News.
"They certainly looked up to her - and you would. She was not only a great player but she was a great role model. She always gave 100% and I am sure when Laura and Heather gets back on the court after their injuries there will be part of them that will remember the great things that 'Bally' did.
"I don't think anyone of us knew the extent of her liver problem but she kept on fighting and she got up to No.15 in the world - what a tremendous effort that was.
"That will continue to help the development of British tennis. Off the back of Elena, Anne Keothavong did very well and so have Laura and Heather.Let's hope they can go onwards and upwards in their careers."