Kei Nishikori: Japanese World No 9 has all the skills but needs to toughen up his body
Semi-final epic with David Ferrer tired 24-year-old in Madrid
By Leif Shiras
Last Updated: 12/05/14 5:29pm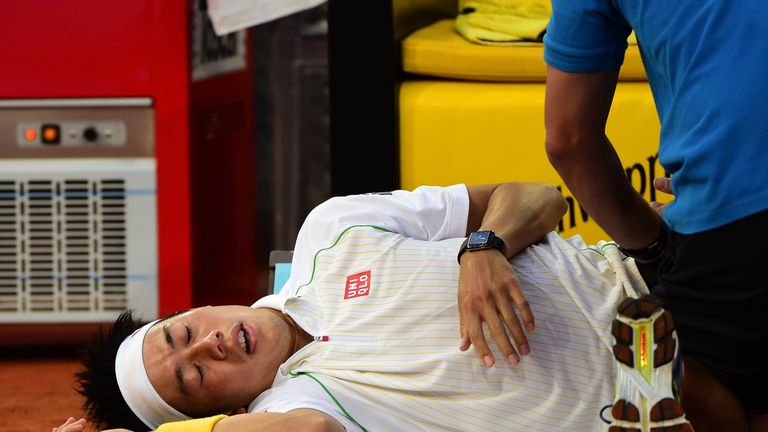 Nishikori led Rafa Nadal by a set and 4-2 in the final of Sunday's Madrid Masters but a back injury caused the Japanese to lose the second set 6-4 and retire after slipping 3-0 down in the decider.
And Sky Sports pundit Shiras reckons the 24-year-old - who won on the clay in Barcelona last month, beating Andy Murray's Madrid conqueror Santiago Giraldo in the final - remains too frail body-wise.
"Nishikori did so many things well, stood up to the pressure of the moment and played some spectacular tennis," Shiras said of the World No. 9.
"But winning perhaps the best match of the year against David Ferrer in the semi-finals took something out of him and in the difficult, rugged exchanges in the second set with Nadal, he became physically debilitated.
"Nishikori's people need to find a schedule that can take care of his body. I think they have done a pretty good job but now they need to take it to a whole new level."
However, Petchey says the right-hander - who has recorded victories this year over the likes of Roger Federer, Milos Raonic and Grigor Dimitrov - can be proud of the way he battered Nadal in the opening portion of Sunday's final.
Dictated
The former British No.1 branded Nishikori an "understated genius" after being hugely impressed with his ability to mix up his offence - but Petchey thinks that Nadal will be far from happy with his performance in the showpiece match in Madrid.
"It's easy to focus on the negatives but the positive is how well he played for a set and a half," Petchey said of Nishikori, the current sixth favourite with Sky Bet to win the French Open.
"He showed his is an understated genius. He dominated Nadal in front of a hostile crowd and played with variety - going wide, going deep and being fast.
"He dictated things and beat and confused Rafa time and time again. He was awesome."
On Nadal, who will face either France's Gilles Simon or Italy's Filippo Volandri in the second round of the Sky Live Rome Masters - an event the Spaniard has won in seven of the past nine years - Petchey added: "The questions about Rafa will get answered this week.
"He is going down to sea level - altitude won't be a problem - and back to a tournament he has loved in the past. If he goes through that event okay then he will be confident [ahead of the French Open] but he will be frustrated by the hole he dug himself into in Madrid."