Tim Clement provides his in-depth Wimbledon preview and offers up his his predictions
Last Updated: 23/06/14 11:01am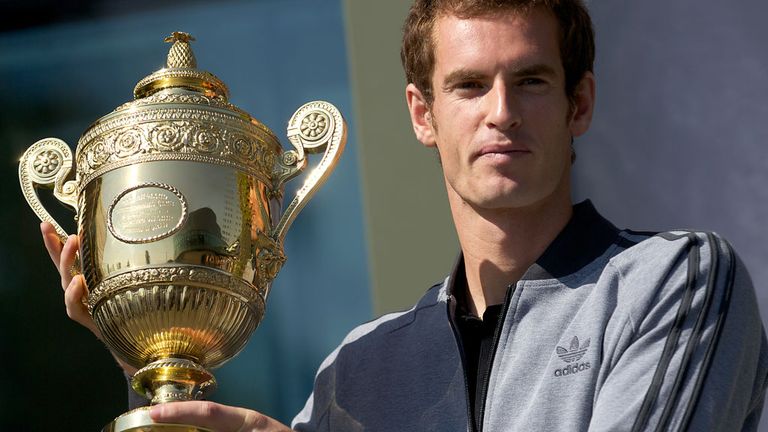 Tim Clement provides his in-depth Wimbledon preview and offers up his his predictions
Andy Murray returns to the scene of his greatest triumph carrying mixed expectations following a turbulent 12 months.
The Scot has failed to land a solitary title since ending Britain's 77-year wait for a champion, having had to cope with back surgery and a change of coach.
While Murray insists he is now physically back to his best, as proved by an almost surprising semi-final run at the French Open, it remains to be seen what sort of immediate impact the appointment of coach Amelie Mauresmo will have on his game.In terms of odds, all of the aformentioned issues have seen Murray lose the initial favouritism he was handed after claiming the crown, with Novak Djokovic heading the betting ahead of Monday's start.
The Scot is given a 7/2 chance of retaining his title while, as we'll explore below, bigger question marks are placed over Rafael Nadal (9/2) and Roger Federer (11/2).However, it is the Serb who Sky Bet are looking to take on, making him their outright Price Boost with odds enhanced from 7/4 to 2/1.
Plenty are suggesting it's the most open field in years, meaning the likes of Australian Open champion Stanislas Wawrinka and three-time 2014 title winner Grigor Dimitrov come into consideration.Milos Raonic, Tomas Berdych and Ernests Gulbis each have sufficient weapons to trouble anyone on grass, but neither Jerzy Janowicz nor Jo Wilfried Tsonga posses the form to suggest they can repeat their previous deep runs here.
David Ferrer is facing a race against time to be fit after having to miss the Topshelf Open due to illness, while the event comes too soon for Juan Martin del Potro, who has recently returned to training follow wrist surgery.The conditionsSW19 saw more first-week upsets than the rest for the Grand Slam venues put together last year, with the transition from clay to grass causing top seeds to tumble. The slick surface has a profound impact on ball speed and height, not to mention the footwork adjustments required. The lack of friction means lower and quicker bounces, while those attempting to replicate their carefully perfected slides from the red dirt will quickly collect grass stains. The forecast of potential rain on most days during the first week certainly won't help, although Centre Court is protected by its invaluable roof.
Last year
With Nadal and Federer crashing out early on, Del Potro and Janowicz powered their way to the semi-finals. However, Murray and Djokovic managed to avoid upsets despite dropping sets, with the Serb being pushed the distrance by an eventually crestfallen Del Potro. Murray then made light of the previously heavy burden of expectation as he dispatched Djokovic in straight-sets, although tension certainly rose as he blew a 40-0 lead when serving for the match.
The draw
The two main favourites and last year's finalists were placed in the first half, leaving the second part open for an outsider if Nadal and Federer suffer early exits again. Nadal has been dealth a potential rematch with Lukas Rosol but has an otherwise favourable route with Milos Raonic the highest ranked player in his quarter, while Federer is paired with compatriot Wawrinka. Murray begins his defence by facing promising youngster David Goffin while Dimitrov appears his most likely quarter-final opponent with doubts over Ferrer. Djokovic's section looks the toughest, littered with big hitters, including Berdych, Gulbis, Tsonga and Marin Cilic.
The contenders (and Sky Bet odds)
Novak Djokovic - 2/1
It says a lot about the rest of the field that a man with a relatively modest grass-court record heads into the event as clear favourite. Murray has thumped him in straight sets in both of their meetings on the surface, at the Olympics in 2012 and here last year, with the latter being only his second final appearance at a grass event. He has also been struggling with a wrist problem, admitting his initial practice on grass ignited the discomfort experienced earlier in his clay campaign. As arguably the greatest-counter puncher in the world, the 27-year-old is perhaps too passive for the environment, with his immense movement slightly impaired by the surface. However, Djokovic will be at his most dangerous as a wounded animal after another defeat to Nadal in the French Open final.
Andy Murray - 7/2
There are two ways to look at the Scot's preparations. The pessimists can suggest things could not have gone much worse since winning here last year, with his hunger and intensity depleted by the relief of reaching his greatest goal, while the abandonment by Ivan Lendl leaves him lacking direction and focus. However, I'm seeing a positive spin on the last 12 months. Murray is fit again and free of pain and, if he has made the right appointment, should have regained the intensity and consistency which has been all too absent this year. The early exit at Queen's is not an issue as the 27-year-old had plenty of match time in his legs from a deep run at Roland Garros, while there's certainly a sense that he has a point to prove again. In my opinion Murray is the best grass-court player right now with his variation and power and will retain his title if he is able to consistently play his best tennis over the fortnight.
Rafael Nadal - 9/2
The Spaniard silenced his doubters by ending an well below-par clay campaign by landing an ninth French Open title but faces a far more difficult task in being the best on grass again. Nadal's form on the surface reads three successive defeats to players outside the top 80, losing 6-3 6-1 most recently to Dustin Brown in Halle. The quicker and lower bounce significantly reduces his effectiveness, with more aggressive players finding it easier to penetrate his typically resilient defence. However, he managed it in 2008, ending the reign of arguably the greatest ever grass-court player in the process, and again in 2010, so certainly cannot be written off. If he can get through the first week, with big-hitters such as Rosol and Ivo Karlovic in his path, then his odds are sure to tumble significantly.
Roger Federer - 11/2
While most see the second half of the draw as the weaker side, Federer will not have been pleased to be paired with Nadal, who leads their head-to-head 23-10. The 17-time Grand Slam champion could have the chance to put Swiss no.1 Wawrinka in his place in the quarter-finals, although that would require his compatriot going that far for the first time. The big question over his chances of an unprecedented eithth Wimbledon title is, just two months off his 33rd birthday, whether Federer can physically match his rivals, especially with the five-set format. The answer to that question since he last triumphed here has almost always been no.
Stanislas Wawrinka - 20/1
As Australian Open champion, Wawrinka is warranted far more respect for the big events now but has woeful form on grass. First-round exits in three of the last four visits to SW19 and an early exit at Roland Garros have tempered expectations significantly. While it may appear that the faster surface should suit his aggressive style, the less predictable conditions actually hamper his lower percentage game. A semi-final defeat to Dimitrov at Queen's dispelled the idea that his new source of confidence is going to turn him into a world beater on grass.
Grigor Dimitrov - 22/1
All eyes will be on the Bulgarian youngster at the All England Club after his Wimbledon-winning credentials were enhanced by triumphing at Queen's. That represented his third title of the year and confirmed what many suspected in that his game is perfectly tailored to conquering the grass. While still not quite the finished article, a powerful serve and a variety of spins make him a very tricky customer on the surface, akin to the man who he has so often been compared to. The 'Mini Fed' nickname has fallen away with consistent success around the tour's lower-tier events but the question is where he is ready to produce on the biggest of stages.
Best of the rest
As eighth seed, Milos Raonic (40/1) is rated as the most likely benefactor should Nadal crash out early on but has a wretched record on grass, failing to make the third round here previously. Kei Nishikori (66/1) and Richard Gasquet (100/1) are also in that section and boast better records on the surface. 2010 finalist Tomas Berdych (50/1) also has grass-court calibre but finds himself in the toughest section of the draw along with Djokovic, who dominates their head-to-head 15-2. French Open semi-finalists Ernests Gulbis has made remarkable progress this year and has the weapons to trouble the best but is in the same quarter. Jerzy Janowicz (66/1) enjoyed a shock semi-final run here last year but has won just two matches since February, while Jo-Wilfried Tsonga also lacks form, losing to world no. 60 Marinko Matosevic in the third round at Queen's. David Ferrer carries odds of 100/1 amid doubts over whether he'll even enter, although his price wouldn't be much shorter even if fit, given his disappointing campaign to date and lack of suitability to the surface.
Predictions
In all honesty I've found it incredibly difficult to pick a really strong fancy, with all of the favourites burdened by detracting factors. Therefore, I'm going with the player who I deem the best on the surface when at the top of his game, the same player I predicted to triumph last year - Andy Murray.
The Scot has rarely found that level this year but there is no reason to suggest he can't over the forthcoming fortnight. Semi-final runs at the Rome Masters, where he nearly beat Nadal, and Roland Garros, where he didn't, proved he is close to getting back to his best. If confidence and concentration are there then I'd back him to maintain a perfect record over Djokovic on the surface, while I wouldn't be surprised if neither Nadal nor Federer are waiting in the final. Dimitrov will attract as much interest from punters as photographers after his success at Queen's but his price no longer appeals, having been available at treble the odds earlier this month.