Wimbledon 2014: Stanislas Wawrinka must grin and bear gruelling schedule, says Barry
Barry Cowan urges players to see the bigger picture over Wimbledon orders of play.
By Barry Cowan
Last Updated: 01/07/14 10:08am
Grand Slam champions Stanislas Wawrinka and Novak Djokovic have both voiced concerns over having to cram in their matches amid rain delays at Wimbledon.
There's been a fair bit of criticism of the schedule, with Wawrinka bemoaning the fact he has to play so much in such a short space of time and then Djokovic suggesting playing on the middle Sunday, which is utter nonsense!
I think it's very easy for players to see their side of the situation. There are reasons why there's no play on the middle Sunday and I think it should be kept that way. For Stan, it's really unfortunate that he's having to play three matches back-to-back but the only solution would have been to play at 11.30am on Court 6 with 200 people watching. That's not what tournaments are about and he is unlucky.
For Stan, it's really unfortunate that he's having to play three matches back-to-back but the only solution would have been to play at 11.30am on Court 6 with 200 people watching.
Barry Cowan
Wawrinka is a Grand Slam champion now and his stocker is higher. People want to see him play. The organisers don't want Grand Slam champions playing on Court 6 in the morning because people have paid good money for Centre Court and Court 1 to see top tennis. Try telling those with tickets they've only got one singles and one doubles match because you think it might rain - it's not going to work.
I understand the comments being made by the players but in this particular situation I think it's a bit unfair. I do think they could've wrapped up the women's matches indoors on Saturday night under the roof though - they should have got those finished.
Grass isn't Wawrinka's best surface and I've got a feeling he's going to lose today against Feliciano Lopez. I've just got a feeling because of the way Lopez has been playing. Stan hasn't convinced me as a grass court player - he's a good grass court player but he's not a great grass court player. He's a great hard court player and a great clay court player. On grass, he doesn't move as well and the bounce is totally different to the hard and clay courts. 
Routine
I am absolutely convinced Roger Federer will beat Tommy Robredo today. I saw Roger play Robredo at the US Open last year and I think it was the worst performance I've ever seen from Roger in a Grand Slam. He was a bag of nerves, played the break points terribly and it coincided with having lost early at Wimbledon. That was probably his lowest moment since 2003 but since then, he's regrouped and is playing really good tennis. He's also been dealt a pretty good draw so far and he'd have settled for Robredo in the last 16.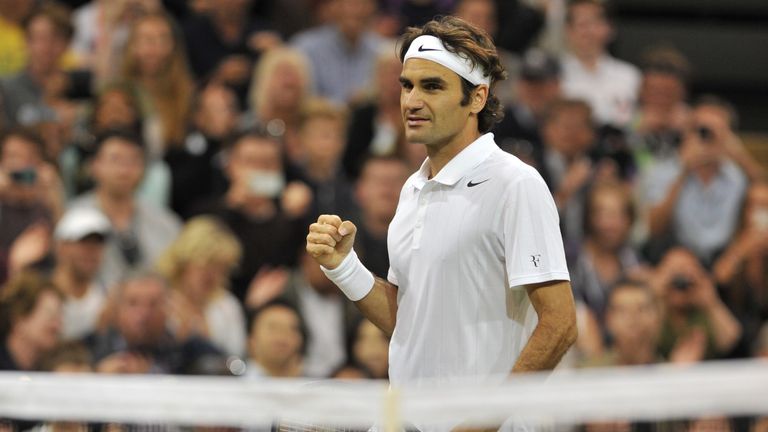 If Roger is to win another Slam, then I think Wimbledon and the US Open are the two he can still win. The reasons for that is the surface at Wimbledon and if it's quick at the US. At the other two, I don't think he can win because they get slower and slower and if and when it gets to a physical match with long rallies, Roger is not going to beat those top guys. His best way to win is to keep the points short.
Roger has been serve-volleying quite a bit in the first week and the ultimate test will come if that potential semi-final against Rafa Nadal happens. Will he back himself? He really disappointed me when he played Nadal in Australia because he just seemed to get caught up with the occasion, which is so unlike Roger. He needs to come forward because he can't expect to beat these guys from the back.
Federer will get passed at the net. The problem is that the modern generation think that if they get passed, coming to the net isn't working but the previous generation, which won Wimbledon through serve-volleying said to themselves: 'Yeah, I got passed but I'm going to come again. I'll keep coming because over a long period of time, that is playing to my strengths and is my best chance of winning.' Federer needs to have a clear gameplan.
Having said that, Federer is the one who I'm most convinced about reaching the last four. I think the Grigor Dimitrov v Andy Murray game is 50-50 because both are in good form, I don't think Novak Djokovic beating Marin Cilic is a lock-in and Nadal getting to the semis isn't a given either with Milos Raonic lurking around the draw as he is.
Occasion
Looking at Nadal, his opponent today is Nick Kyrgios, who saved nine match points against Richard Gasquet. He's great - a young emerging star who dominated the junior game last year and won the boys' doubles here 12 months ago. In many ways, he's the story of the first week. He's got his dream match today and at 19 years old, playing Nadal on Centre Court in the last 16 at Wimbledon will be a fantastic experience.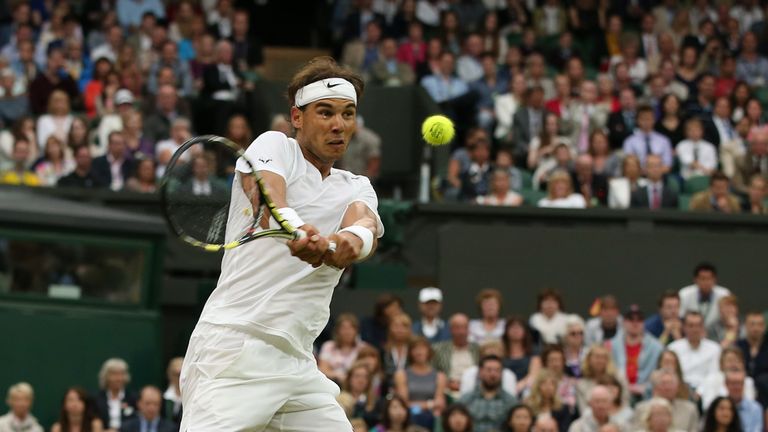 Kyrgios can go out and have fun and have a swing. In that respect, he's a dangerous opponent but I don't think he's good enough yet. If he won, it would be one of the most remarkable stories. I just don't see it. I think Nadal is in prime position to make a move and I'm expecting a straight-sets win. Anything but that would leave a question mark against Rafa further down the line as to whether he can find those extra levels.
We're reaching the business end of the tournament now where players need to produce their best tennis. Players like Murray and Federer have had relatively good draws so far. I know you still have to go out and play but if you did a poll of 100 people, nobody would have found cases for their opponents to win the match. It's about trying to find those two extra levels. Rafa has been able to do it again and again on the biggest stage.
In terms of the women's tournament, I just have a feeling Maria Sharapova won't win this. On titles won, she's a clear favourite. It's just a gut feeling I have - there's no method behind my madness, I just don't think she's going to win! I might be proved wrong.
Petra Kvitova is so up and down. I look at the bottom half and it's a lot weaker and she's the favourite to get through to the final from that half of the draw. In a three-set shootout, she's done it before, she's a streaky player and grass is her best surface, so I just feel she might repeat her Wimbledon victory of 2011.
You look at the men's and it's a bit more predictable, whereas in the women's, people could make a case for eight or nine winning it. It's that open. Anyway, this is where the tournament really begins...