Tennis Expert & Columnist
Wimbledon 2014: Andy Murray must 'rediscover' motivation to win
But we can't expect him to win every time he steps on court, says Mark Petchey
Last Updated: 03/07/14 10:36am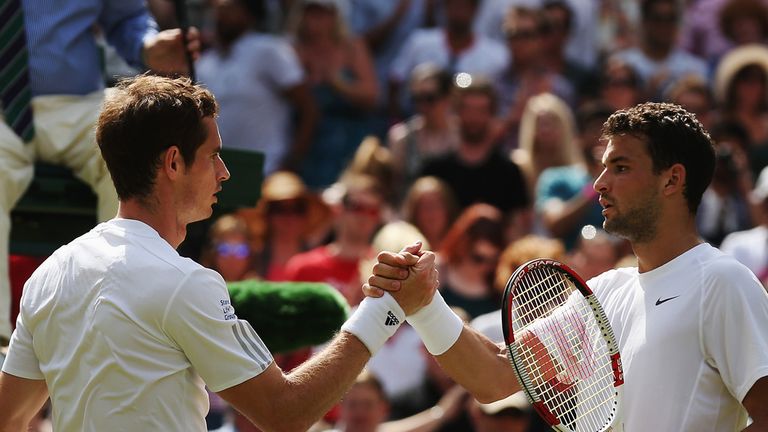 Andy Murray must 'rediscover' the motivation to win on the big stage after his Wimbledon quarter-final exit, says Mark Petchey.
The reigning champion arrived on Centre Court on Wednesday having won all 12 sets he'd played in the tournament, but Queen's Club champion Grigor Dimitrov eased into the semi-finals with a 6-1 7-6 (7-4) 6-2 triumph.
Murray wasn't anywhere near his best form, while Dimitrov took full advantage of the seemingly agitated Brit, who appeared to swear towards his players box where coach Amélie Mauresmo, girlfriend Kim Sears and mother Judy Murray were sitting.
The defeat, which ended Murray's 17-match winning streak at the All England Club, was his first Grand Slam loss to a player ranked outside the top 10 in four years.
And Murray's former coach Mark Petchey, told Sky Sports News that the 27-year-old needs to 'rediscover' the drive that saw him win the US Open in 2012 and become the first British male Wimbledon champion since Fred Perry in 1936. 
Petchey said: "There are a lot of tough competitors out there and you can't expect him to win every time he steps out on that court.
The one crucial thing is for him is to remain motivated and as focused as he was when he was chasing these goals
Mark Petchey
"The one crucial thing is for him is to remain motivated and as focused as he was when he was chasing these goals,  when he won in New York and here at Wimbledon - that's a massive change and nobody can really prepare for that. 
"You don't know how you're going to react when you've won and scaled the summit of his Everest here at Wimbledon and also in New York, and obviously that's what's incredible about Roger, and Rafa and Novak - these multi-Grand Slam champions that continue to win - they continue to find that motivation and that, heading forward to the summer, is something Andy is going to have to rediscover.
"His expectations have always been huge. Andy's pressure comes from the pressure he puts on himself that will be more so, because he lost that match to Dimitrov, rather than less so."
Distracted
Petchey, who guided an 18-year-old Murray to become British No.1, says claims that the tennis star was aggravated by an off-court issue can only be answered by Murray himself, and full credit should be given to Grigor Dimitrov's impressive display.
"I saw Andy in the locker room and he seemed fine," added Petchey. "Every time you try and get the right routine and get things spot on, that's why these players are such creatures of habit and clearly that's something that I'm sure was happening yesterday.
"When anyone puts in a performance that's a little sub par by their excellent standards everyone is keen to start coming up with these theories and only Andy will be able to tell someone one day whether there was anything in it, but right now I'm focussing on the fact that Dimitrov has played a great match out there and we've got some great semi-finals to look forward to.
"He didn't put his best on court and we've all talked about how difficult it is to defend a Wimbledon title when you've won it for the first time – only four men have managed to achieve it and they're some of the greatest names in men's tennis."