US Open 2014: Sky Sports' Peter Fleming answers your tennis questions
Commentator talks greatness, McEnroe and playing doubles...
Last Updated: 20/08/14 5:13pm
Sky Sports Tennis commentator Peter Fleming has momentarily put down his microphone to answer YOUR questions ahead of the 2014 US Open.
The American – who won four men's doubles titles with John McEnroe at Flushing Meadows – responded to your posers on the final Grand Slam of the year and much, much more.
So carry on reading to hear which tennis players he classes as great, why the Fleming-McEnroe tandem worked so well, and why today's leading lights should play more doubles.
Then watch the sport's best battle for glory at the US Open, live from August 25-September 8, on Sky Sports 3…
Who do you think will win the US Open and who else might go close at Flushing Meadows? Mark
PETER SAYS: I think the favourite is Novak Djokovic. He hasn't had the greatest couple of weeks since Wimbledon, losing to Jo-Wilfried Tsonga in Toronto and Tommy Robredo in Cincinnati in the round of 16 but by the time the second week of the US Open comes around he will be playing his best. I think Tsonga played excellently to win Toronto and he is always a danger and someone to watch out for but guys like Tomas Berdych and David Ferrer have not really shown us a lot this year, and while Grigor Dimitrov showed how great he is on grass by reaching the Wimbledon semi-finals, he is not quite the same player on the hard courts. I do, though, think that Andy Murray is starting to look good. He is a guy nobody will want to play.
Considering the humidity, Do you think the US Open is the hardest Grand Slam to win? Stephen
PETER SAYS: They are all hard. The temperature in Australia can get steaming, while as the French is played on clay it takes a lot out of you physically. Wimbledon can also be difficult – more so before the roof was built over Centre Court – because it rains, you go on and off court and get disrupted. Any time you have to beat the best players in the world over five sets it is brutally tough. Nobody waltzes through.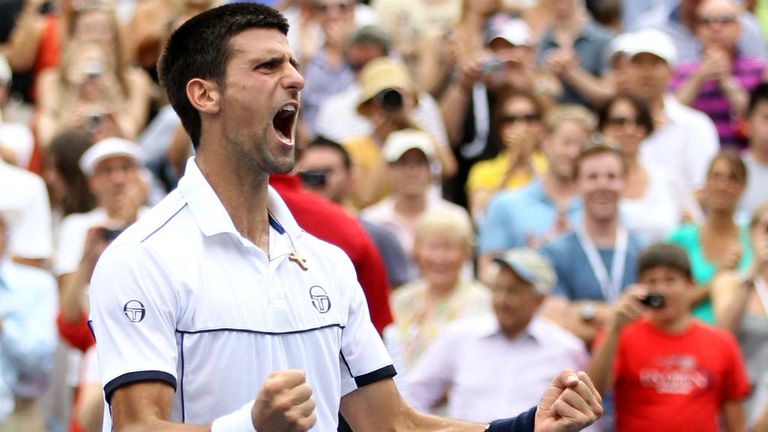 By stats and titles etc, who is the greatest of all time? Also, who would you say is the greatest ever in terms of quality of play? Ben
PETER SAYS: In terms of quality of play, it might be Djokovic. He has played the best tennis over the last year or so in a truly great era but it could be Rafa Nadal or Roger Federer and you're nit-picking if you pick one over the other. In terms of stats, you'd probably have to say Rod Laver who won two career Grand Slams and 19 Majors in total, but it is very hard to compare guys in different eras.
Hi Peter, Do you think America's Jack Sock will go on to be one of the leading lights of the game? Many thanks, Colin
PETER SAYS: Jack has a lot of talent. He is one of these guys who hits the ball with power and moves well, but I don't think he has quite learned the game yet and he still has some way to go. Does he have the desire and belief to become a Major champion? That remains to be seen but I certainly feel he has the ability to do it, even though he hasn't developed as quickly as some of these great champions did. There's no reason to think he can't be a top-20 or top-10 player and from there on, who knows.
An American will come through but it doesn't look like it is going to happen over the next few years.
Peter Fleming
How many years will it before there is a good chance of an American man winning the US Open? Elliot
PETER SAYS: It all goes in cycles. Who'd have thought a Swiss man would have dominated the game and a guy from Scotland would win Wimbledon? An American will come through but it doesn't look like it is going to happen over the next few years.
How did you and John McEnroe become doubles partners and why were you so successful? Nick
PETER SAYS: I first met John when he was 12-years-old. We got on well and became really good friends and when he was 18 and getting to the semi-finals at Wimbledon, we practiced with each other every day. After that we started playing doubles together and did pretty well right from the start. We had really good chemistry, trusted one another and that counted for a lot, I think.
Do you think more of the top players should play doubles, like they did in yesteryear? Igor
PETER SAYS: Absolutely. Kids these days are missing out on a lot by not playing them. Firstly, it helps you get used to winning and that's a magic elixir. It breeds confidence. Tennis is a problem-solving exercise - the best players solve problems better than the others – and doubles gives you the chance to learn those skills. If you want to get technical, your serving, returning, volleying and ability to hit targets improves dramatically from doubles and I don't understand why more guys don't take that opportunity.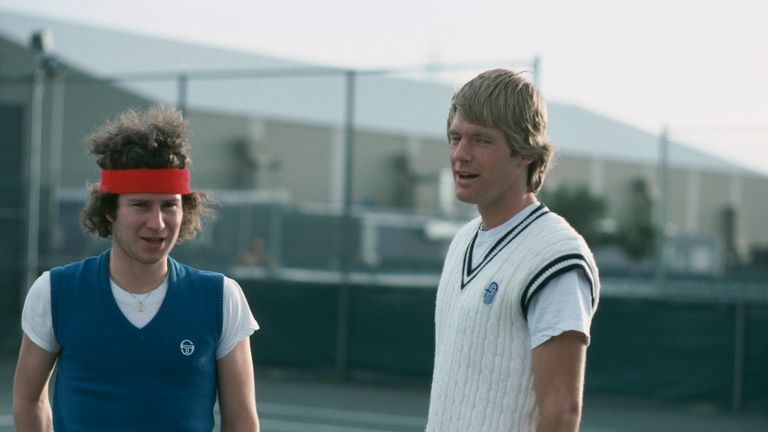 Who are your favourite players to watch on the ATP Tour? Dan
PETER SAYS: I love watching Djokovic because he is a cerebral player, perhaps more cerebral than any other, and he very rarely makes a mental mistake. I also enjoy watching Federer; he, too, is very intellectual on the court but also has tremendous grace and superb shots. Seeing Dimitrov slide gracefully around a grass court is also exciting, but there are many guys I like watching because it is a great time to be a tennis fan and commentator. I'd argue that this is the greatest era of tennis players we have seen.
And, finally, which of the Sky Sports Tennis commentators/presenters is most likely to buy a round at the bar? Darren
PETER SAYS: Boris Becker. He is one of the most generous guys you could ever hope to meet.