Tennis: Mark Petchey names his all-time American greats ahead of 2014 US Open
Find out why Sky Sports expert reveres Mac, Andre and Pistol Pete...
Last Updated: 22/08/14 4:03pm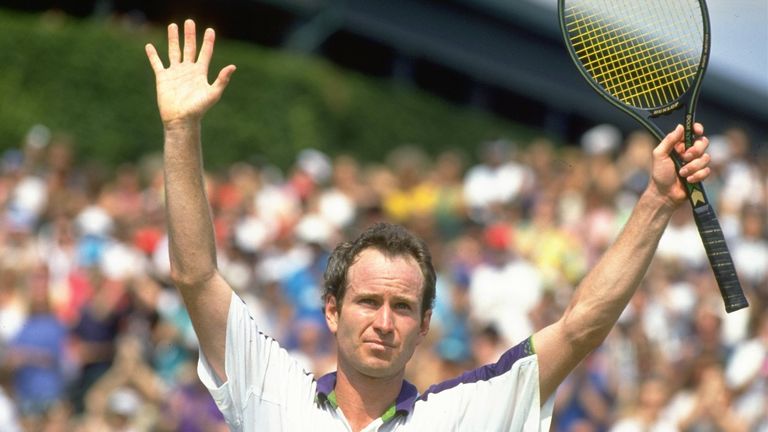 JOHN McENROE
America are not having a great period in men's tennis right now but they have had a pretty decent time of it over the years, so it wasn't easy to whittle this list down to three. Mac, though, was always top of it. He drew me into tennis as a kid and his Wimbledon showdown with Chris Lewis in 1983, which he win 6-2 6-2 6-2, was the first Wimbledon final I saw live, so he has always been a favourite of mine. He made a huge impact with everything he did; he was a real trailblazer; polarised opinion on and off the court; and, as far as I'm concerned, is one of the great tennis artists.
Mac's Grand Slam Wins
Wimbledon: 1981, 1983, 1984
US Open: 1979, 1980, 1981, 1984
In today's game Roger Federer probably takes that mantle for his grace and shot-making abilities, but the serve-and-volley game that Mac adopted on all surfaces, the beauty with which he played the game and his unique service motion captivated a lot of people. His frailty of temper did the same, of course, but I always looked at his outbursts as passion rather than anything more sinister and just a vital part of what made Mac who he was.
He achieved so much success in his career – seven Grand Slam singles titles, becoming World No 1, plenty of doubles success – but I think his greatest achievement was probably the way he transcended the sport. With John it wasn't about the numbers, it was about the memories – thrashing Connors at Wimbledon in 1984 weeks after losing in heart-breaking fashion to Ivan Lendl in the French Open final – and the way he took tennis to the masses. So while John may be disappointed he didn't manage to win a Slam after the age of 25, that statistic does not sully his greatness and legacy in my eyes. Mac ripped up the rulebook and brought a real human element to the sport. He was a game changer.
ANDRE AGASSI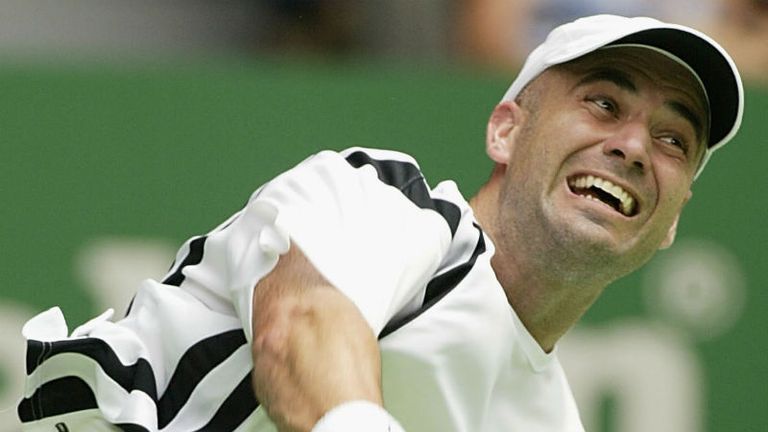 When it comes to trials and tribulations throughout a career, Andre is right up there. He grew up as teenager fulfilling his father's dream of being a tennis player, a dream that he did not share despite being great at the sport, and then he made a stunning comeback and won more Grand Slams after slipping into the mid-100s in the rankings. One of the most iconic moments in tennis, at least in my eyes, was when Andre was two sets to love down and against Andrei Medvedev in the French Open final in 1999 and looked dead and buried but came back to win it and complete a career Grand Slam when you thought that accolade would elude him. However, it was great to watch him develop as a player and person.
Agassi's Grand Slam Wins
Australian Open: 1995, 2000, 2001, 2003
French Open: 1999
Wimbledon: 1992
US Open: 1994, 1999
He began as a wild child, with the long hair and denim jeans; the bronzed, sunglasses-wearing, former army paratrooper Nick Bollotierri in his corner; and showcasing that tennis wasn't just for the rich, but he ended it with slightly less hair, lots of money and eight Grand Slam titles. He also had the best aggressive return of serve we have ever seen. Andy Murray and Novak Djokovic have taken defensive returns and getting the ball back into court to a whole new level, a facet of the game Agassi didn't nail quite as much and which perhaps cost him at times in his great rivalry with Pete Sampras, but in terms of seeing the ball, stepping in and dominating rallies straight away, Andre was the greatest.
It was perhaps fitting that after previously turning his nose up at the white-clothing rule at Wimbledon, that was where he won his first Grand Slam and began his path to greatness. Andre did everything with emotion and it was an honour to play him in a match in 1994 – even though I lost in three sets!
PETE SAMPRAS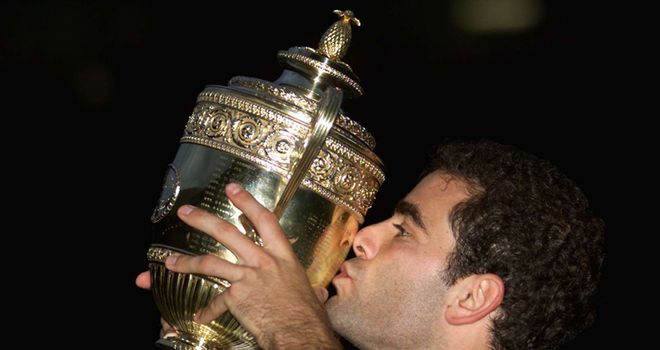 Pete's consistency was unreal, with him ending the year as Word No 1 six times and dominating on grass, and he played tennis with such purity. He had the old-school racket, the serve-and-volley tactics, the sliced backhand, and beautiful movement and he was almost a right-handed version of his great idol, Rod Laver. He always let his tennis, not his mouth, do the talking, too, and while that perhaps meant he did not bring the human story to the sport in the way that Mac and Andre did, it ensured he maintained his aura.
Sampras' Grand Slam Wins
Australian Open: 1994, 1997
Wimbledon: 1993, 1994, 1995, 1997, 1998, 1999, 2000
US Open: 1990, 1993, 1995, 1996, 2002
Sampras' rivalry with Andre helped create his legend as well. Pete had the better of things stats-wise – he won 20 matches, compared to Agassi's 14 victories – but it was all about the moments. There were some stunning ones, particularly on the Arthur Ashe Stadium at the US Open, which left shivers running down your spine and entire crowds leaping out of their seats in the middle of matches to give them standing ovations.
A part of Pete's career I will always remember, though, is watching him try to win the French Open at Roland Garros, something he unfortunately never managed to do. It was agonising to see him come up short – his best result in Paris was reaching the semi-finals in 1996 – but you always admired his unwavering determination to get that monkey off his back. Pete was too dependent on his serve on clay and never quite mastered the ability to slide on the surface, but you could never accuse him of lacking the hunger or failing to prepare enough for the French.
So he should have no regrets that that he failed to grip that title and, of course, he had a fairy-tale ending, winning a US Open in 2002 that everyone said was beyond him and sailing off into the sunset.
Watch the 2014 US Open on Sky Sports 3, live from Monday, August 25 to Monday, September 8. Click here for full coverage details.