Ready to dominate
Petra Kvitova took the women's game by storm last season, can she do the same in 2012?
Last Updated: 28/12/11 11:36am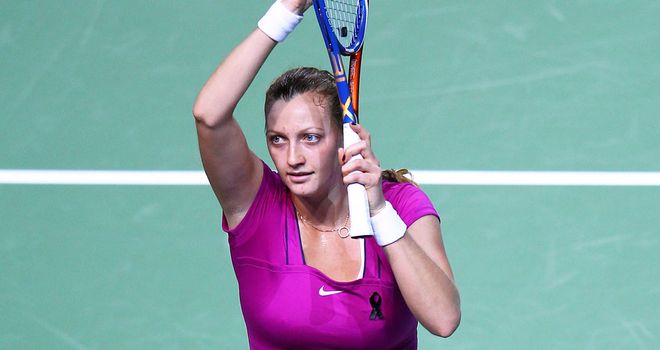 It was supposed to be the season where the next generation put their stamp on women's tennis, but on the face of it 2011 left the situation more confused than ever.
Yes, there were three new grand slam champions to go with Kim Clijsters' first triumph in Australia, but 29-year-old Li Na and 27-year-old Samantha Stosur were hardly new kids on the block poised to take over Serena Williams' mantle.
And as for world number one Caroline Wozniacki, that elusive slam title appears further away than ever as she prepares for the start of the 2012 season.
But, while the Dane has continued to dig her heels in and insist her game is just fine thank you, one player has made a giant leap almost to the very top.
Petra Kvitova's year will be remembered mostly for her stunning Wimbledon triumph over Maria Sharapova in July, but that is only half the story.
Shocked
The 21-year-old Czech began the season ranked 34th in the world as one of a crop of young players with potential for great things.
Her ability to generate phenomenal power and her huge left-handed serve made her stand out from the pack to a degree, but few people were predicting that 12 months later she would have collected six titles and climbed to number two in the rankings.
As well as Wimbledon, she also won the WTA Championships and guided her country to the Fed Cup crown, ending the season with a run of 12 straight victories.
Ask most tennis pundits who is likely to dominate the women's game in 2012, and the chances are you will only get one answer.
The woman herself is not so sure. Kvitova's aggressive game could not be more at odds with her timid personality and, speaking after her WTA Championships victory in Istanbul, she seemed genuinely shocked by her achievements.
She said: "I started the season at 34 and I didn't expect that I would be sitting here as champion and with a grand slam already. Really it's unbelievable.
"It's really a big step for me. It was everything coming together, like fitness, mentality, and of course that I am healthy and I could play the whole season."
Kvitova will begin her 2012 campaign ranked only 115 points behind Wozniacki but she is well aware that, whether she takes over as number one or not, her new position presents its own challenges.
"I am number two, and next season it will be different and I will actually be favourite, maybe all the time," she said. "It will be really, really strange for me. It will be something new again."
Of course Kvitova could turn out to be another flash in the pan, but there are a number of signs that will not be the case.
One is the pace of the Czech's rise. Although 21 is certainly not that young in women's tennis terms, she was not among the players groomed - make that drilled - for stardom from childhood.
Even five years ago, Kvitova did not think a professional tennis career was on the cards, so her progress really has been remarkable, and that different path gives her a freshness other players her age can only dream of.
Statement
She also has a rawness that at times can be a weakness but the way in which she grabbed her chance against Sharapova at Wimbledon really was impressive.
Instead of showing nerves when she served for the match in her first grand slam final, she went out and won the game to love, clinching victory with an ace.
It was a big statement, as was the way she finished the year by beating five of her top-eight rivals at the WTA Championships.
In the final Kvitova's opponent was Victoria Azarenka, the other big improver of 2011, and the Belarusian talked up her rival's serve as her main weapon.
"She has a really big serve," said Azarenka after what could be the first of many high-profile finals between the pair. "And she really takes advantage of it. In the important moments, it really saves her."
Kvitova's fan club includes her idol and fellow Czech-born left-hander Martina Navratilova, who believes the Wimbledon title will be the first of many for the 21-year-old, and it is a prediction with which it is increasingly hard to disagree.