Rotterdam champion Juan Martin Del Potro must challenge big four, says Barry Cowan
Rotterdam champion Juan Martin Del Potro must now target the game's top four, says Barry Cowan.
Last Updated: 17/02/13 4:51pm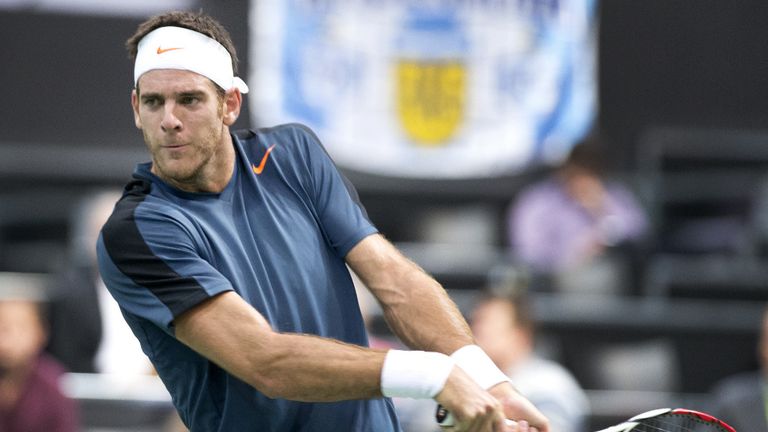 The big-serving Argentinian defeated Julien Benneteau in Sunday's Rotterdam 500 finial 7-6, 6-3 to seal his 14th career title and Cowan believes the world number seven - who won the 2009 US Open - is playing better than he was 12 months ago and should now aim to push Andy Murray, Roger Federer, Novak Djokovic and Rafa Nadal for major honours on a regular basis.
"I think Del Potro is playing better than he was this time last year, he's playing closer to the baseline and clearly playing with confidence," said Cowan.
"The next step for Del Potro is can he break the strangle hold of the top four?
"I still have doubts that he can because of his reluctance to come forward. Everything else in his game is awesome, but you've got to be able to play at the net against the likes of Murray, Federer, Djokovic and Nadal.
"However, Del Potro has shown that on a particular day he can beat those players. I don't want to put down what David Ferrer has done in the last few years, but most people accept he's not going to be able to beat the likes of Djokovic, Nadal, Murray and Federer on a regular basis.
"But Del Potro is getting closer to doing that - the problem is they keep on raising the bar. He's clearly trying to close the gap and I feel the next couple of events will be crucial for him."
Peter Fleming, though, feels Del Potro's height puts him at a disadvantage when he takes on the athletic abilities of the world's elite players.
"Del Potro starts off with one disadvantage against those guys in that he's not as quick as they are," he said.
"He's 6ft 6, which gives him some more power, perhaps, but the top four move incredibly well. That gives them an advantage because they can defend against some of his powerful shots.
"He needs to make inroads into the forecourt if he is to break down those defences."
Still trying
Meanwhile, Frenchman Benneteau suffered his eighth defeat in eight final appearances. Although the world number 39 is now 31 years old, Cowan believes it's still possible he can end his wait for a trophy.
"Benneteau played as well as he did when he beat Roger Federer earlier in the tournament," said Cowan.
"But Del Potro just makes life so difficult. He made very few unforced errors, he hits the ball with incredible length and I think Del Potro deserved to be the winner.
"But I don't see why Benneteau can't win a tournament. He may have another four or five years left in him, given the way the men's tour is going at the moment. There are currently 25 players in the top 100 who are 30 or over. He still looks fit and the way he plays is different: he's got an aggressive return and he can volley."