Nadal factfile
Sky Sports takes a look at the Spaniard's career following his success at Roland Garros
Last Updated: 09/06/13 6:01pm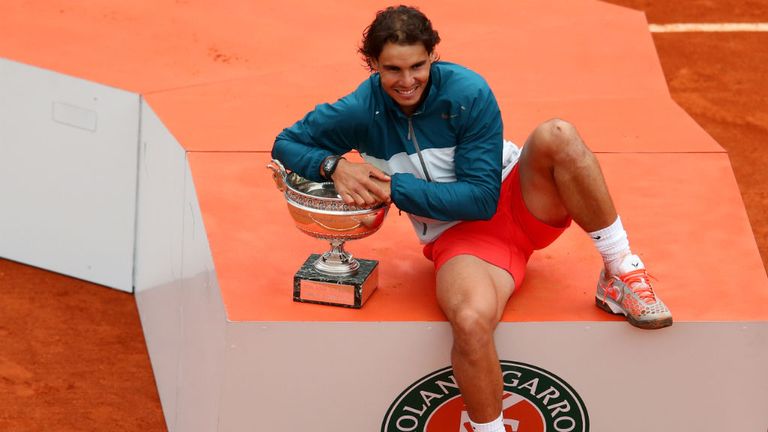 1986: Born June 3, Mallorca, Spain.
2001: Turns professional.
2002: Wins first match on the ATP circuit in Mallorca, becoming the ninth player in the Open era to win an ATP match before his 16th birthday.
2004: Wins first ATP title, in Sopot, Poland.
December - Beats Andy Roddick in four sets to help Spain beat the United States in Davis Cup final.
2005: June - Becomes first man since Mats Wilander in 1982 to win the French Open title on debut with a four-set win over Argentinian Mariano Puerta.
2006: March - Beats world number one Roger Federer to win the ATP event in Dubai, ending Federer's run of 56 consecutive hard-court wins.
June - Beats Swede Robin Soderling in first round at French Open for his 54th consecutive clay-court win, setting a professional era record in the men's game. Defends title with victory over Federer, his 59th straight win on clay.
July - Loses Wimbledon final in four sets to Federer.
2007: May 7 - Wins 76th straight match on clay to set a new record for consecutive victories on any single surface.
May 20 - Winning streak on clay ends at 81 matches with defeat in the final of the Hamburg Masters to Federer.
June 10 - Wins third straight French Open, beating Federer in the final for the second successive year.
July 8 - Loses Wimbledon final to Federer after five-set epic.
2008: January 24 - Reaches Australian Open semi-finals for first time but is beaten by Jo-Wilfried Tsonga.
June 8 - Thrashes Federer 6-1 6-3 6-0 to win his fourth successive French Open title, equalling the feat of Bjorn Borg. Becomes only the fifth player to win a grand slam without dropping a set.
July 6 - Claims his first Wimbledon title with a 6-4 6-4 6-7 (5/7) 6-7 (8/10) 9-7 victory over top seed Federer, becoming the first man since Borg in 1980 to hold the Wimbledon and French Open titles simultaneously.
August 17 - Wins Olympic gold in Beijing with straight-sets defeat of Fernando Gonzalez.
September 9 - Loses in the semi-finals of the US Open to Andy Murray.
2009: February 1 - Wins first Australian Open title after epic five-set victory over Federer in Melbourne.
May 31 - Loses his first match at the French Open, beaten by Soderling in the fourth round.
September 13 - Thrashed 6-2 6-2 6-2 by Juan Martin del Potro in US Open semi-final.
December 4-6 - Helps Spain win Davis Cup, beating Czech Republic 5-0.
2010: June 6 - Regains the French Open title, beating Soderling 6-4 6-2 6-4 in the final.
July 4 - Follows up a semi-final win over Murray by beating Tomas Berdych 6-3 7-5 6-4 in the Wimbledon final.
September 14 - Becomes only the seventh man to complete the career Grand Slam with a 6-4 5-7 6-4 6-2 victory over Novak Djokovic in the final of the US Open at Flushing Meadows.
2011: June 5 - Successfully defends his French Open title, beating Federer 7-5 7-6 (7/3) 5-7 6-1 to equal the six Roland Garros trophies won by Borg.
July 3 - Loses his Wimbledon title 6-4 6-1 1-6 6-3 to Novak Djokovic, who also takes the number one ranking.
September 12 - The same story for Nadal as Djokovic wins 6-2 6-4 6-7 6-1 in the final of the US Open.
December 4 - Beats Argentina's Juan Monaco and Juan Martin Del Potro to help Spain win their third Davis Cup crown in four years.
2012: January 29 - Djokovic wins a third straight grand slam final against Nadal, beating him 5-7 6-4 6-2 6-7 7-5 in five hours and 53 minutes at the Australian Open, the longest grand slam final in history.
April 22 - Nadal ends a seven-match losing streak against Djokovic in Monte Carlo, in turn winning his eighth consecutive title in the Principality.
June 11 - Becomes the first man to win seven French Open titles beating Djokovic 6-4 6-3 2-6 7-5 in a rain-delayed final.
June 28 - Nadal suffers a shock defeat by world number 100 Lukas Rosol in the second round at Wimbledon, his earliest grand slam defeat in seven years.
July - Nadal pulls out of the London Olympics, where he had been due to carry Spain's flag at the Opening Ceremony, with knee problems. He does not play again for seven months.
2013: February 6 - Nadal plays his first match back at a tournament in Chile. He reaches the final but loses to Horacio Zeballos.
March - After winning titles on clay in Sao Paulo and Acapulco, Nadal beats Juan Martin Del Potro in the final in Indian Wells to win his first title not on clay since 2010.
April - Fails to win a ninth straight title in Monte Carlo as he loses to Djokovic in the final. Goes on to win titles in Barcelona, Madrid and Rome.
June 9 - Becomes the first man to win eight singles titles at a single grand slam with a 6-3 6-2 6-3 victory over David Ferrer in the French Open final.