Del Potro has to be one of the favourites to win in London, says Barry Cowan.
Del Potro has to be considered a favourite for the ATP World Tour Finals, says Barry Cowan.
Last Updated: 28/10/13 11:14am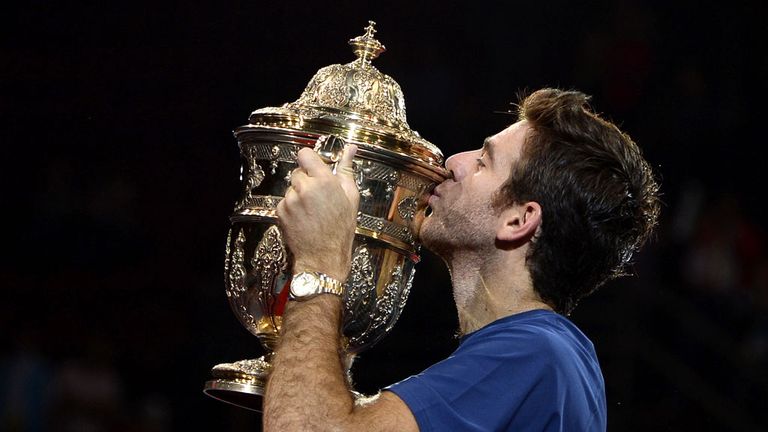 Del Potro, who was top seed at the event, successfully defended his ATP Swiss Indoors title with a 7-6 (3) 2-6 6-4 victory against home favourite Roger Federer.
The Argentine also became the first player on the ATP tour to win four 500 events in one year. Barry Cowan told Sky Sports that the 25-year-old must be considered a favourite for the tour finals at the O2 which start on November 4.
"He's hot at the moment," said Cowan.
"Here's a player who is right at the top of his tennis. I think he's more comfortable in these conditions than he is outdoors on a hard court. He likes the indoor conditions and is looking confident.
"He's now 325 points behind David Ferrer and both are a little behind Andy Murray in third (in the world rankings), but you'd expect Del Potro to post wins in Paris next week and be in the mix as one of the favourites to win at the O2.
"I would put him ahead of Rafa Nadal in London. You have to. If you look at their indoor pedigrees -Del Potro keeps winning titles indoors and Rafa has only ever won one in Madrid in 2005 so he's not a serial winner indoors.
"It's so difficult to knock Del Potro off because he's so powerful in his serve and base line shots."
Positives for Federer
Despite losing in the final on home turf, Cowan believes Roger Federer will be pleased with his performance in Basel and can take positives from the week.
He said: "Roger will be delighted with the way he played but disappointed with the way he lost his serve in that third set when he hit those couple of double faults.
"He'll be delighted with the way his tennis has come from the beginning of the week which was scratchy against Istomin and Dimitrov and even a little yesterday in the semi-final.
"It's always disappointing when you lose a match, especially when you're Roger Federer and you've won 77 titles, but for me there are only positives from this week and even more positives from today. We haven't seen Roger play at this level for a long time so he's got to take the confidence from today in to next week and then to London."
Don't forget you can watch live coverage of Paris ATP 1000 from Monday and then all the action from the O2 in the Tour Finals from November 4.