Grand Slam Girl
Petra Kvitova told Special Report about her goals for 2012 and where she can improve her tennis.
Last Updated: 22/05/12 2:01pm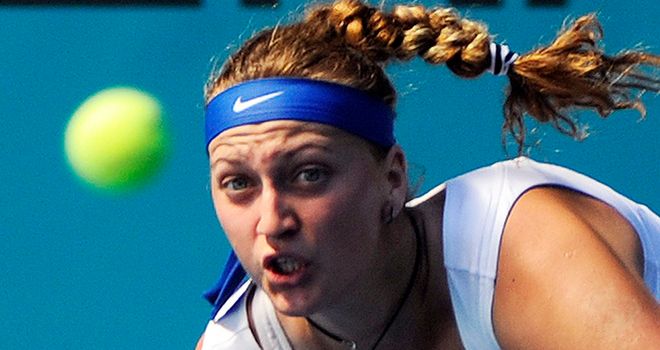 Reigning Wimbledon champion Petra Kvitova told Special Report that she is aiming for a London double this summer.
The Czech star, who beat Maria Sharapova to claim the SW19 title last year, is hoping to retain her All-England Club crown and follow that by winning Olympic gold at the same venue.
"I would like to win any Grand Slam but for everybody who is playing tennis Wimbledon is the best tournament and one they want to win," said the world number four.
"I am looking forward to the atmosphere of the Olympic Games. It would be good to win it as the Olympics is the fifth Grand Slam in our season and it would be nice to have a medal."
Kvitova could usurp Victoria Azarenka at the top of the world rankings if she enjoys a stellar performance at the upcoming French Open, a tournament she reached round four of in 2011.
Improve
But the 22-year-old lefty insists that her primary targets are winning matches, getting to grips with playing on clay and developing her all-round game.
"I am not thinking about the first position. I am very close to being number one but it doesn't matter for me," added Kvitova, who also won last year's season-ending WTA Championships.
"I am focussed on every match, every practice, every tournament and then if I play well and have success then I may be number one.
"At the beginning on the clay I have some small trouble with the moving, but it is not a really big problem. It is not my favourite surface but I played well on it last year so I know I can play on it.
"I think I can improve every shot in my game; serve, forehand, backhand, putting on slice and being more comfortable on my volleys, as well as the fitness."
Clever
Kvitova's coach, David Kotyza, admits training his player has become more difficult now that she has the glare of the world's media upon her.
But he praised Kvitova's attitude and says that he always suspected she could reach the pinnacle of her sport.
"She is an ordinary girl from a small city and the pressure from the media is quite big," said Kotyza.
"She has no time to rest so we have to plan every day really well because otherwise she can be injured and unhappy.
"I prepared her a small questionnaire before I started working with her, asking her what she thought about her style and about the game, about her advantages and disadvantages.
"From the answers, I recognised she is a clever girl and can think about tennis and her attitude is really good. I know this girl could reach the top - but I didn't think about a Wimbledon win."
1987 Wimbledon men's singles champion, Pat Cash, was equally glowing about Kvitova's qualities, and believes she will win many more prestigious tournaments before she hangs up the racket.
"She has got a big game and every shot of hers is powerful. She has got a good touch as well," he said.
"It depends on how the body holds up and how she deals with the pressure, but she is arguably the best all-round player out there.
"If she can put it all together and be tough enough, she will win a lot more Grand Slams."