Game, set and mats
Rashad Evans mixed up his preparations for UFC 145 with a spot of tennis with Victoria Azarenka.
Last Updated: 23/03/12 8:54pm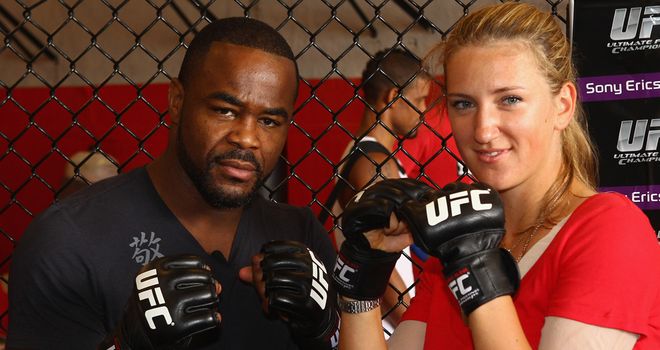 Number one contender Rashad Evans decided to diversify his preparations for his UFC Light Heavyweight title clash with champion Jon Jones at UFC 145 with a spot of tennis this week.
But never one to do anything by half measures, Evans enlisted the help of WTA world number one - and self-confessed MMA fan - Victoria Azarenka as she took time out from the Sony Ericsson Open in Miami.
The former Light Heavyweight champion is entering the final weeks of his training camp ahead of the April 21 clash with Jones and admitted that he welcomed a different approach.
He told UFC: "This was a nice break from training. It lets your mind go free and gives you a chance to not think about the fight. It was cool that she's another pro athlete, one who goes out there and competes, mano-a-mano. It was fun."
He was also quick to credit Azarenka's fighting technique and believes she could adapt to life in the octagon if she fancied a change of career.
He added: "I can tell she's genuinely interested in MMA - it was impressive how she grasps the concepts.
"I didn't show her too much except for kicking, but she knew a lot more than I thought she'd know. There were times she really looked like she knew what she was doing.
"I love women's tennis. It actually dominates men's tennis in my opinion. You know they're out there giving it everything they've got. They go through the same anxiety we do of not wanting to lose, and I respect that a lot."
"I'd be alright in a tennis match because I'm pretty agile - I'm not too fast, but I'm very agile, so I might have a better chance at winning in a tennis match, but she might win in MMA because I don't hit women."
Superb
Azarenka is enjoying a superb start to 2012 after winning the Australian Open in January and three other tour titles to cement her position as the top player in the women's game.
The pair share similar goals as Evans is aiming to establish his position at the top of the Light Heavyweight division by defeating Jones next month and the Belarusian star reckons that meeting competitors from different sports can be beneficial.
"It was a great experience to meet Rashad. He seems really nice - I'm sure he's a little bit meaner in the cage, but he's a great guy and it's always great to meet somebody from a completely different field," she beamed.
"I love to follow UFC. I invited him to tennis so I hope he can come cheer me on."
She concluded: "I wish I had time to train more. I'm curious about how these athletes train. I could pick up something interesting for myself."