Wimbledon: Novak Djokovic wary of in-form Roger Federer ahead of Sunday's final
Last Updated: 05/07/14 3:22pm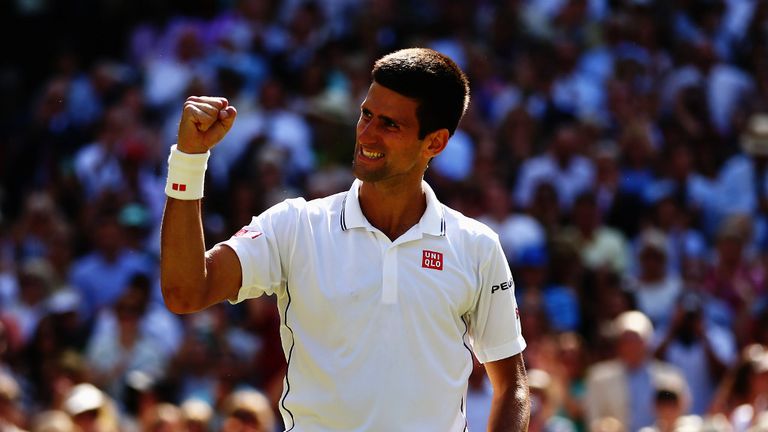 Novak Djokovic is focused on ending Roger Federer's resurgence in Sunday's men's singles final at Wimbledon.
Federer is bidding for an unprecedented eighth Wimbledon crown 11 years after his first and has been the most impressive player throughout the tournament, dropping just one set on his way to the final.
In contrast, Djokovic has ground his way through the draw but should take confidence from the fact he has beaten such quality players as Jo-Wilfried Tsonga, Marin Cilic and Grigor Dimitrov without playing his best.
This is Djokovic's third Wimbledon final in four years, having won the title in 2011 before losing to Andy Murray in last year's final, but his only previous grass-court clash with Federer ended in semi-final defeat in 2012.
Impressed
And he has been impressed with the Swiss star's form over the last two weeks, as he said: "His level has been very high, I have to say.
"I've been watching him in a few matches. He didn't have many tough matches up to the quarter-finals. Against Stan (Wawrinka) he played well.
"With his immense experience of winning this title so many times and from being so dominant in men's tennis for over a decade, of course that helps in the approach of a grand slam final.
"Hopefully I can tactically prepare myself and execute well to not allow him to be in top shape on Sunday.
"It's a good chance for me to try to win against him on his favourite surface, on his favourite court.
"The key against him in the game, of course, is trying to not allow him to dictate too much because he likes to be very aggressive, he likes to come to the net.
"I'm going to have to be able to get as many returns as I can back in the court and try to also protect the baseline."