Murray odds drift
Andy Murray's Australian Open odds nudged out from 9/2 to 5/1 by Sky Bet following tricky draw.
Last Updated: 14/01/12 9:01am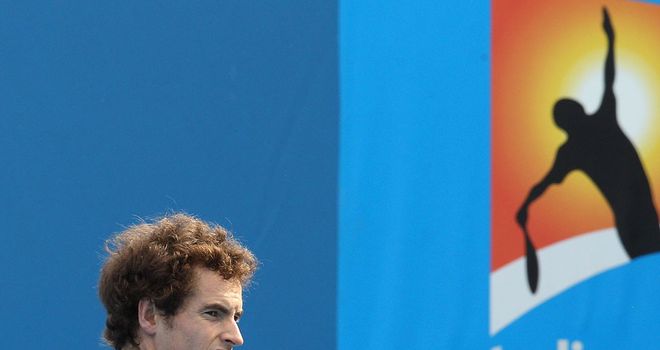 Andy Murray has been nudged out from 9/2 to 5/1 in Sky Bet's Australian Open betting after being handed a tough draw.
The British number one will begin his campaign with a first encounter with American Ryan Harrison, with his most likely route to the last four being Alex Bogomolov Jr, Gael Monfils and 20/1 fourth favourite Jo-Wilfried Tsonga.
If the Scot is to secure a third successive final appearance at Melbourne Park then he will need to overcome world number one Novak Djokovic in the semi-finals.
Despite being fourth in the world and without a grand slam title to his name, Murray heads to Melbourne Park at the same price as 2009 winner Rafael Nadal amid concerns over the Spaniard's shoulder problem, which has prompted him to schedule some time off after the Australian Open.
Second favourite Roger Federer has also been troubled by injury concerns, with a back problem forcing him out of action in Doha last week.
With 9/1 fifth favourite Juan Martin del Potro also in his quarter of the draw, Sky Bet have pushed the 16-time Grand Slam out to 10/3 to make it 17 major titles Down Under.
Djokovic remains the 5/4 favourite after a remarkable 2011 saw him win three Grand Slams, a record five Masters titles and, in turn, claim the world number one spot.
On the women's side of the draw, Wimbledon champion Petra Kvitova is the 5/2 favourite after injury concerns hampered the preparations of three of her main rivals.
Maria Sharavpova (25/1), Serena Williams (7/2) and Kim Clijsters (9/1), who represent the only three active players to have won at Melbourne Park, all had to withdraw from the Brisbane International at various stages, prompting their prices to drift.
World number one Caroline Wozniacki has also seen her price pushed out, from 12/1 to 16/1, following a disappointing showing at the Sydney International, where she would have lost her place at the top of the rankings had Kvitova not also bowed out.
Victoria Azarenka has been cut to 11/2 after triumphing in Sydney, where nine of the top 10 players were on show, while runner-up Na Li has also come in from 16/1 to 10/1.
The draw threw up some daunting routes for Britain's female hopes, with Heather Watson handed a first-round clash with world number three Azarenka, with her odds now a hefty 1500/1.
Anne Keothavong, who could meet the winner of that clash in the third round, is the same price, while Elena Baltcha, who could face reigning champion Clijsters in the second round, is 1000/1.