Walk in the Park
Tim Clement put Andy Murray's football knowledge to the test ahead of his victory over Edouard Roger-Vasselin.
Last Updated: 19/01/12 1:37pm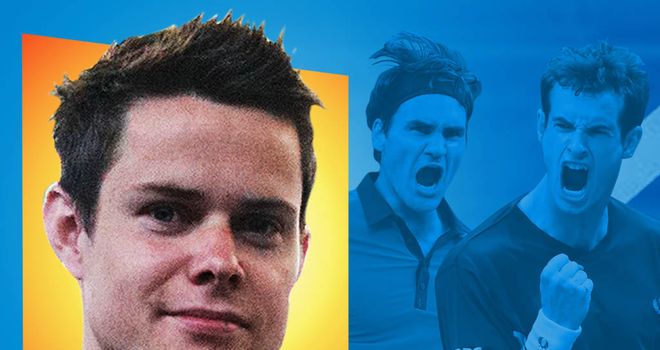 It was as if Andy Murray knew I had plans, wasting little time in cruising to a straightforward victory over Edouard Roger-Vasselin.
Just 16 minutes in and Murray was 5-0 up in the first with two breaks to his name, closing out the set 6-1 with just four unforced errors made.
There can't be many worse players to lose against than Murray, his watertight defensive game making you almost defeat yourself.
A far better serving display was the basis for the win but in all honesty I suspect Murray might have still prevailed had he received for the entire match.
It was a comfortable day all round for the big names with exception to one lady - Petra Kvitova. The Wimbledon champion and a lot of people's favourite for the title had to overcome a second-set blip to beat world 56 Carla Suarez Navarro.
That 'blip' actually ran over to the third set with the world number two trailing 0-2 at one point, but she rallied back to win the next four games and see out the match 6-2 2-6 6-4.
Otherwise it was all very much as anticipated with not a single other favourite dropping a set on the two main courts.
Rivalry
A couple of seeds were sent packing on the shows courts however, with former world number three Nadia Petrova ousted along with 15th seed Anastasia Pavlyuchenkova.
Anyway, back to Murray and, having faced his business side in my first interview back in Brisbane, I was able to enjoy a far more relaxed chat with him after his first-round win, switching the focus off tennis to test his football knowledge.
The Scot maintains a keen interest in the Premier League despite spending his life on the road.
Being a Tottenham fan myself I was fairly disappointed to discover he is actually an Arsenal supporter, but I was able to put our differences aside to play host to a bit of sibling rivalry.
First we pitted Andy and his brother Jamie against each other in the ultimate test of the football brain: Super 6.
The pair took turns in revealing their predictions, which will be online on Friday.
Being extremely competitive guys, it's fair to say they took it pretty seriously, both taking their time before justifying their selections.
Next up I spoke with Andy about his Fantasy Football team, which he takes great pride in, boasting a place at the top of his league which contains a fair few figures from the tennis world.
You'll also be able to read his top tips online as he plays guest pundit for Sky Sports Fantasy Football.
Anyway, over and out from me as I'm going to take advantage of Murray's early finish to see what else the fantastic city of Melbourne has to offer.