Murray eyes Slam
British No.1 Andy Murray is hoping his Grand Slam consistency will finally be rewarded in Melbourne.
Last Updated: 27/01/12 8:05am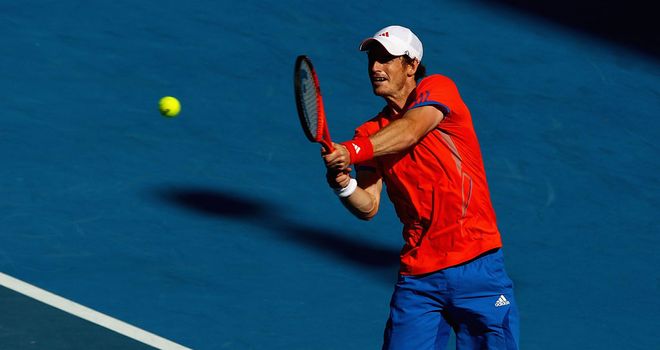 Andy Murray is hoping his consistency in grand slams will finally be rewarded at the Australian Open.
Murray advanced to his fifth successive semi-final in the majors with a routine 6-3 6-3 6-1 win over Kei Nishikori in Melbourne on Wednesday.
A maiden grand slam title continues to elude him, though, and if he is to break his duck here he will certainly have earned it with world number one Novak Djokovic his last-four opponent and either Roger Federer or Rafael Nadal lying in wait on Sunday evening.
Although a place on the winner's rostrum remains the sole target, Murray was nevertheless pleased he was regularly putting himself in position to challenge for a trophy.
"It's been a good run, it's not easy to do," he said.
"It's good to see that I've been playing my best tennis at the slams because that's something the last couple of years I wanted to make sure I was doing. That wasn't always the case and it's good to see it (the hard work) has been paying off.
"I've been preparing the best I could for them and thankfully the tennis has been good as well."
Serene progress
Murray has made serene progress through the tournament so far, his only dropped set coming in his opening match against Ryan Harrison. But he accepts things will get much tougher against Djokovic, who beat him convincingly in last year's final.
The Scot said: "You have to play great tennis and try to take his legs away.
"I will need to have a gameplan, stay focused and try to do better than I did last year."
The world number four was impressive against Nishikori with only his serve requiring improvement - he managed just 44% of first serves in play. But Murray revealed a minor neck problem may have been a factor.
"I could have served better, that's for sure," he said.
"I'll need to serve better in the next match. I had a sore neck when I woke up, I don't know if it had something to do with that. I have been serving well and been getting a lot of free points on it. I'll work on it tomorrow and get the rhythm back."
Murray was unimpressed with his match against Mikhail Kukushkin in the previous round, describing it as "boring" with the Kazakh unable to compete properly due to a hip flexor problem. But he felt the Nishikori encounter was much more entertaining.
"There were quite a few good rallies. A lot of the long points, the fun rallies he was winning, he came up with some great shots. But I was just a little bit more solid and probably had a little bit more in the tank than he did.
"He played three long matches and with the way that he plays he needs to play a lot of long rallies. That was to my advantage today."