Azarenka: Mental strength was key
Victoria Azarenka believes an improved mental approach allowed her to beat Kim Clijsters in the Australian Open semi-final.
Last Updated: 26/01/12 12:02pm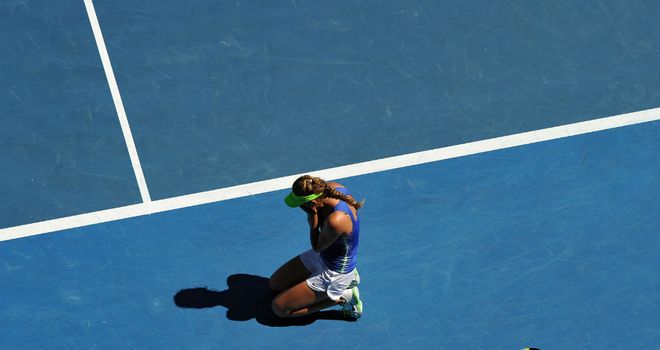 Victoria Azarenka believes her improved mental approach was what saw her to victory against defending champion Kim Clijsters in the semi-final of the Australian Open.
The Belarusian took the first set of the match 6-4 before she stumbled in the second as veteran Clijsters raced through it 6-1 to force a decider.
But Azarenka managed turn the match around once again, taking the final-set 6-3 to reach her maiden grand slam final.
"She was really dominating (in the second set)," said Azarenka. "She made me run so much, I felt I was running a marathon out there.
"I just tried to start to be more aggressive and tried to play my game and, yeah, start from the beginning.
Emotional
"I have one more set to go. I have another, I don't know, hour, 30 minutes, 40 minutes to make a difference. That was my mental approach.
"Before, I think you all thought I was a mental case but I was just young and emotional.
"But I'm really glad the way I fought. That's the thing I'm most proud of, I fought for every ball."
And should Azarenka, 22, go on to beat Maria Sharapova in the final on Saturday, she would also become the new world number one.
Desire
"I really want it bad, you know," she said. "It was difficult to get back in the match, to keep fighting, keep going.
"But that's what it's all about. It's all worth it."
Azarenka remained mature following the emotional rollercoaster and understands there is still work to do before the celebrations can begin.
"I'm still in the tournament so I have my mind still in the tournament," she admitted. "You know, today was not the end.
"I have one more match to go. I have to stay humble and stay focused."