Federer: Don't pity me
Roger Federer has vowed to stay positive despite seeing his Grand Slam drought extend with defeat to Rafael Nadal in Melbourne.
Last Updated: 26/01/12 3:08pm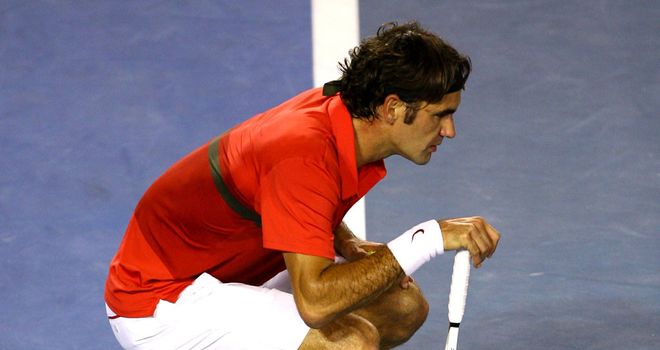 Roger Federer has vowed to stay positive despite seeing his Grand Slam drought extend to an eighth major with defeat to Rafael Nadal in the Australian Open semi-finals.
The 16-time Grand Slam winner, who has not tasted victory in a best-of-five-set tournament since the 2010 Australian Open, saw his hopes dashed with a four-set loss to Nadal in Melbourne on Thursday.
It was a familiar story for the world No.3 against his great rival when, after winning the first set on a tie-break, the Swiss star simply had no answer to the Spaniard, who battled back to win 6-7 6-2 7-6 6-4.
Nadal now leads the head-to-head between the pair 18-9, however Federer has played down the significance of that statistic, stating that the number of titles won is a much more important figure.
"It is what it is, you know. At the end I care about my titles, if I'm happy or not as a person," he said after the match.
"Head-to-heads for me, I mean, are not the most important. If I beat Andre (Agassi) 10 times in a row or Lleyton (Hewitt) many times in a row, at the end of the day I don't care.
Respect
"I remember the matches on that given day, that I played well against them or not, and I don't remember the head-to-head that much."
Federer has not defeated Nadal in a Grand Slam since Wimbledon in 2007, with his only other victory over the Spaniard coming at the All England Club the previous year.
"We have had good matches over the years. I enjoy playing him. The crowd really gets into it, which is nice. We have a lot of respect for each other, which is good, too, I think," Federer added.
"We also play well against each other. I always think he plays a bit better against me than against other players, but that's good for him."
Federer came into the semi-final full of confidence having sailed through five rounds at Melbourne Park without dropping a set, but he cracked under pressure from Nadal, who fell to his knees in celebration after the win.
"He's played me that many times on clay, so maybe he always draws something out of those matches," said the Swiss.
"He's also got a winning record against me which maybe gives him extra confidence, I don't know. Yeah, I think he has a clear plan and he follows that one very well."