Nadal's dream run
Rafael Nadal admitted it was a "dream" to reach the Australian Open final after sustaining a freak injury on the eve of the tournament.
Last Updated: 26/01/12 3:42pm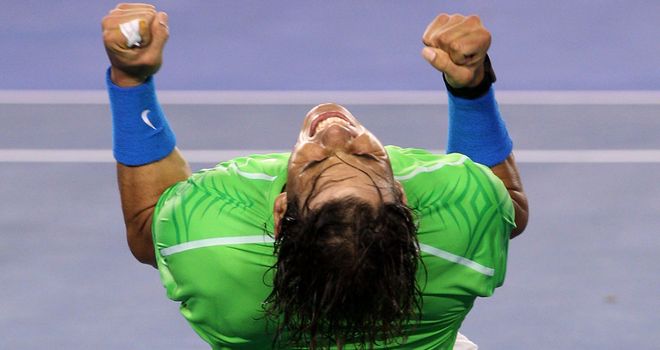 Rafael Nadal admitted it was a "dream" to reach the Australian Open final after a freak injury left him crying in his hotel room on the eve of the tournament.
The Spanish southpaw extended his dominance over Roger Federer with a 6-7 (5/7) 6-2 7-6 (7/5) 6-4 victory to reach his second Melbourne final, something which appeared unlikely after his sudden injury just before the first round.
Nadal was sitting in his hotel when he was hit by agonising pains in his troublesome right knee and was unable to bend his leg, prompting frantic medical treatment to get him fit to play.
"Sunday afternoon, 24 hours to play my first match, I was in my room crying because I believed I didn't have the chance to play in Melbourne," he said.
"So it was a very, very tough situation for me, those hours.
Happy
"Two weeks later I am here in the finals, so it is a dream for me because I had very bad expectations 24 hours before the first match, and now two weeks later I am playing well. I am in the final.
"Always playing grand slam finals is very good news. I've been in the last four grand slam finals so it is a great effort I think."
Nadal has shown no signs of discomfort and he progressed smoothly through the opening rounds, and did not drop a set until his quarter-final with Tomas Berdych.
And he produced a typically determined performance to defeat great foe Federer in the last four, setting up a final with either Novak Djokovic or Andy Murray in the process.
"I am happy about how I am doing. When I am able to play inside, to play aggressive, I think things are working fantastic," he said.
"I don't know if it's going to be enough against Novak or against Andy. But what can I say? I'm very happy about my tournament. I'm going to try my best to try to play a fantastic final and hopefully I will have my chances."
Asked whether he would rather play Djokovic or Murray, Nadal joked: "I prefer the player's who's going to play worse on Sunday."