Sharapova eyes revenge
Maria Sharapova will be gunning for revenge when she takes on Victoria Azarenka at the Australian Open.
Last Updated: 27/01/12 4:28pm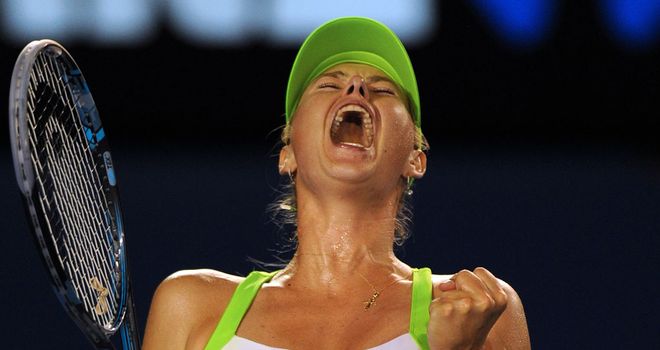 Maria Sharapova will be gunning for revenge for the second time in three days when she takes on Victoria Azarenka in the final of the Australian Open on Saturday.
Having already avenged her Wimbledon final loss to Petra Kvitova last year with a three-set victory in the last-four at Melbourne, the fourth seed now has her sights set on Azarenka.
Sharapova has lost her last two meetings with Azarenka when there has been a trophy at stake - in Stanford in 2009 and Miami last year - and she is eager to put another record straight.
"She's a really good player and I haven't had great success against her in the last couple of events that we've played against each other," said the Russian.
"I'd really like to change that. But it will be important to play right tactically. She makes you hit a lot of balls and she's aggressive as well."
Azarenka will be playing in her first grand slam final but Sharapova, from experience, knows that is not necessarily going to be a factor.
"I also played Petra in her first grand slam final (at Wimbledon) and she played really high-quality tennis," said Sharapova, competing at this level for a sixth time.
"She went out there and it didn't really affect her. So even though Victoria hasn't really been on this stage of a grand slam before, she's certainly won big titles and she has the experience.
"This is a stage she's wanted to be at for a long time so I do expect her to play a really good match."
Respect
Azarenka is also of the opinion her lack of experience on the biggest stage will not play a significant part in the outcome.
"It's not a concern for me," she said. "I have worked hard to be in this situation so why stress about it? I'm just going to go out there and try to do my best."
There are also two sub-plots to Saturday's final.
The first is the issue of grunting, with both players widely criticised for the volume of their shrieks throughout the tournament.
The WTA are aware of the growing public opposition to the persistent attack on the eardrums - the Azarenka grunt has even be mimicked by the Melbourne crowd during her matches - and have already made moves to address it in the youth ranks.
The players have regularly been quizzed on the issue this past fortnight but Azarenka again batted away the questions.
"Can you surprise me sometimes with a different question?" she said. "Whatever people call us, I respect every opinion. That's it for me."
The second point of interest is the number one ranking, with the winner taking over from Caroline Wozniacki at the summit.
Again Azarenka claimed it was not something she was giving a great deal of thought to. "First I think I have a really tough match to play," she said.
Three-time grand slam winner Sharapova was slightly more forthcoming, although she denied having top spot up for grabs added further spice to what should be an enthralling contest.
"Having been in the position before, it doesn't to me," she said. "For me it's more about the grand slam win than the number one ranking. That's always been the goal for me."