Azarenka set to raise the bar
Victoria Azarenka is ready to raise the level in women's tennis after destroying Maria Sharapova to win the Australian Open.
Last Updated: 29/01/12 3:23pm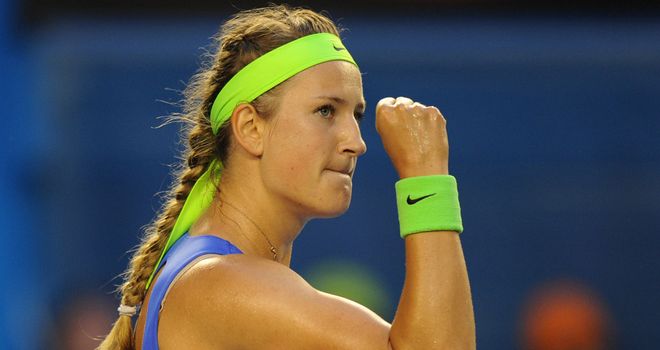 Victoria Azarenka revealed she is ready to raise the level in women's tennis after destroying Maria Sharapova 6-3 6-0 to win the Australian Open.
The Belarusian overpowered the 2008 champion in 82 minutes to lift the Daphne Akhurst Memorial Cup and become the fourth women's first-time grand slam winner in a row.
Azarenka, 22, dropped her opening service game and was down 2-0 after a nervous start before winning 12 of the next 13 games to take the match away from Sharapova, a three-time major winner, to earn top spot in the rankings.
Belief
"Wow," Azarenka said as she first spoke to the crowd, then started giggling. She thanked her support team, saying "You made me realise I can believe in myself and I can finally raise this trophy.
"Belarusian people have a mentality of really hard-working people. You can see outside the capitals, big cities, how neat and clean the areas are. So I think that speaks a lot.
"It's just amazing to see how much people work, and we are here playing tennis and sometimes complaining about little things. It's a little bit silly. It's really interesting to see a different kind of life."
Azarenka singled out her grandmother "who inspires me most in my life", before adding: "I can't wait to be back next year, I've had an amazing month in Australia. It's a dream true.
"I'm proud of what I'm doing. I just want to keep going and keep raising that level."
Momentum
Asked whether she felt she played the perfect match, Azarenka said: "I don't think so. Just the perfect ending.
"I didn't think going into the match I had to play the perfect match. I just had to play better than my opponent.
"The first two games was a bit of a disaster but then I got the momentum going. I relaxed and started focusing on each point, trying to do whatever it took to win that point."
Azarenka becomes the first Belarusian grand slam champion, going one better than Natasha Zvereva, who finished runner-up at the French Open in 1988, representing the USSR.
She is also the first woman to win both the junior girls and women's singles titles in Melbourne since Australia's Chris O'Neil in 1978.