Guessing game
Our man at Flushing Meadows looks at what can be read into from Andy Murray's US Open first-round win.
Last Updated: 28/08/12 7:10am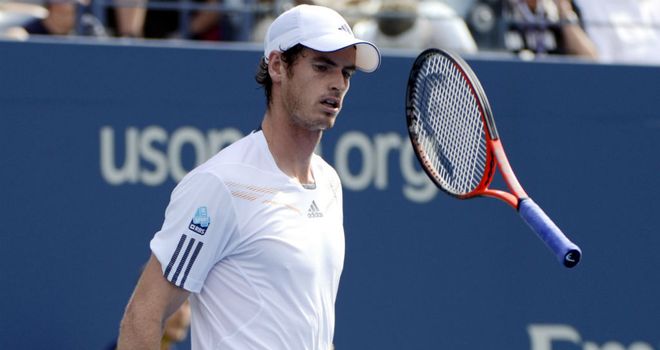 If we've learned anything from following Andy Murray over the last few months then it is that his form guides belong in the bin.
The world No.4 was as erratic as the weather on the opening day of the US Open, swinging between infuriatingly inconsistent and his brilliant best throughout his first-round clash with Alex Bogomolov Jr.
Meanwhile, his US hard-court form could not have been much worse, withdrawing from the Rogers Cup with a knee problem and then suffering an early exit at the Cincinnati Masters.
Such form might tempt some to question whether now really is the time for him to land a first Grand Slam title.
However, the Scot's success on the grass this summer has taught us to ignore his recent records, having enjoyed his best run at Wimbledon on the back of successive defeats to lower-ranked players, before landing gold at the Olympics.
Murray pointed out in his post-match press conference that he only lost seven games en route to the second round as he was pressed on his patchy display, with a first-serve percentage below 50, allowing his world 73rd ranked opponent break on three occasions.
A spot of cramp also raised concerns, but we will avoid going into the histrionics debate.
The overriding significance sits not with Monday's inconsistent display but those two finals at SW19, where he earned the admiration the watching public with a brave display, both on court and in his speech, at Wimbledon before utilising the new-found levels of support to inspire a first victory over Federer in a five-set format.
Unprecedented support
The Scot spoke of the difference he felt following his Wimbledon final heartbreak, drawing confidence from an unprecedented level of support.
He said: "After the final, the support I got from all the people around me, just people I was bumping into in the street, was incredibly positive and something I hadn't experienced to that degree before. That helped me get over that Wimbledon loss much quicker."
Up next in a journey into the unknown with a first meeting with Ivan Dodig, who has slipped down to 118 in the rankings during 2012 as he struggled with back injury.
The former world 32 does, however, have previous in causing upsets, with Rafael Nadal the most high-profile of his victims, while Jo-Wilfried Tsonga also lost to him at Queen's this year.
He also enjoyed the most comprehensive win of all the men on show on day one, thrashing Hiroki Moriya 6-0 6-1 6-2, but admits he will have to "risk a lot" against the Scot, with a wariness that "these Olympics showed that he's ready for big things."
Expectations may be cranking up around Murray's chances, but there is little to take from clashes with the likes of Bogomolov and Dodig to indicate whether 2012 really will be his year.