Murray reaction
Skysports.com takes a look at what Fleet Street's finest made of Andy Murray's Wimbledon final defeat.
Last Updated: 09/07/12 11:38am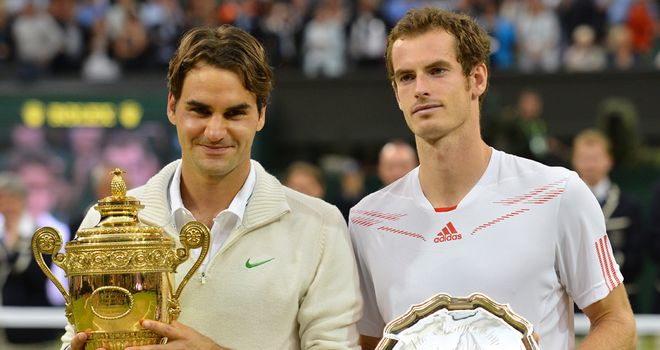 Andy Murray fell at the final hurdle for the fourth time at a grand slam on Sunday, going down 4-6 7-5 6-3 6-4 to Roger Federer at Wimbledon.
The British number one did at least manage to win a set this time - his previous three final losses had been in straight sets - but a maiden major title continues to elude him.
As the wait for a home winner of the Wimbledon men's singles goes into a 77th year, skysports.com takes a look at the reaction to Murray's latest near miss.
Brotherly love
Murray's older brother Jamie - a Wimbledon champion in the mixed doubles alongside Jelena Jankovic in 2007 - tweeted: "My Brother is a champion. He may not have won but he is a champion."
Champion without a crown
Kevin Mitchell in the Guardian's Sport Blog takes up the same theme as Jamie. "He is already a champion, even if he has no crown, because his performance was as good a losing effort as these championships have seen since Federer lost to Rafael Nadal in 2008."
Anyone for Ennis?
The Sun is moving on quickly from Murray's defeat, immediately turning its focus onto the Olympic Games in London where heptathlete Jessica Ennis is one of the big British hopes for gold.
Million dollar question
The Daily Mirror's Oliver Holt is consumed by the issue of whether Murray will win a grand slam title. "Will he get there? Will he become the first British Grand Slam winner since (Fred) Perry? Or will it fall to someone else, maybe someone not even born yet, to take the final step?" Like much of the country - and probably Murray himself - Holt has no answers this morning, only questions.
Master of the universe
Martin Samuel in the Daily Mail puts Murray's defeat into perspective, writing that in Federer he had lost to "the tennis equivalent of Pele or Ali" and pointing out the Scot has been born in the middle of the greatest era of men's tennis: "It is Murray's misfortune to have as contemporaries men who would have bestrode any other time like Colossus. Roger Federer, Rafael Nadal, Novak Djokovic."
Learning from Lendl
James Lawton in The Independent thinks the influence of Ivan Lendl could be seen in Murray's "brave" performance. "Murray could hardly have played better, more intelligently or with better discipline. He played shots that were sublime. He fought, he scuffled and for more than three hours he consigned the memory of a superbly gifted but self-indulgent nearly man to another lifetime. He was, to put it another way, a credit to the old champion Ivan Lendl, who has brought a new aura of hard-nosed professionalism to the Murray camp." Lendl, it is worth remembering, also lost his first four grand slam finals. The Czech finished with eight major titles.
Won the nation's heart
The Daily Telegraph is usually a good way to gauge what middle England are thinking and Jim White believes Murray's display could be a turning point in how he is perceived. "When he comes to hang up his plimsolls, Murray may well look back on this moment as the one in which he did something his waspish detractors have long insisted was impossible: this was the day on which he was finally embraced by the British public."