Masterful Murray
Tim Clement reflects on a day where Andy Murray sent out a real statement of intent at Flushing Meadows.
Last Updated: 04/09/12 5:44am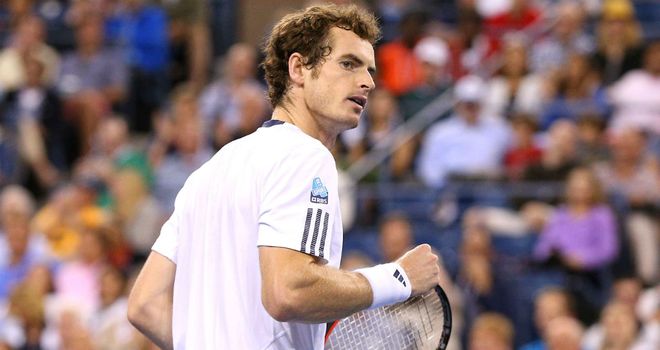 Two things became very much apparent at Flushing Meadows on Monday night, Andy Murray is primed to win his first Grand Slam while Milos Raonic is a good way from competing for one.
The British No.1 put the game's most promising young player firmly in his place under the night lights of the Arthur Ashe Stadium, thumping him 6-4 6-4 6-2 without facing a single break-point.
Canada's 21-year-old talent offered little more than his infamously powerful serve, with the net approaches and heavy forehand neutralised by Murray's sublime defensive game.
The Scot's efficiency was just an impressive, making a mere 12 unforced errors compared to Raonic's 27 with little between the tallies of winners.
It will taste all the sweeter for Murray given how much was made of their only previous meeting, when the youngster prevailed in straight-sets on the clay of Barcelona earlier this year.
Raonic cranked up hopes of an upset even further by making some confident pre-match noises.
While his impressive start to the match might have worried some, with a stream of aces spraying down past the third seed, Murray stayed patient and waited for his chance, knowing if he could get enough serves back then his superiority would tell in the rallies.
It did finally in the ninth game, before also doing so three games later and then twice in the final set.
The first was all-important in breaking the Canadian's faith in his weapons, with Murray's counter-punching ability halting his opponent's attacks with a show-reel of passing shots.
Raonic ended the match with net stats of below 50 per cent, key to Murray reducing the Canadian's first-serve winning percentage from a tournament average of 89 per cent to a mere mortal 70 per cent.
It will be back to the drawing board for Raonic with so many holes in his game exploited, although it is hard to see how, at 6'5", he can the develop the athleticism necessary to defend like the game's top players.
Similar task
A similar task awaits Murray in the quarter-finals, with Marin Cilic's game based on a lethal serve and powerful baseline strokes.
It is hard to see the Croat causing Murray too many more problems, having lost all but one of their meetings with the exception being at the 2009 US Open.
The pair's most recent meeting came at Wimbledon, where Murray looked comfortable throughout as he made his way through to his first final appearance at SW19.
Murray's camp may be forgiven for offering half an eye to the semi-finals, where Roger Federer looks destined to await.
Federer has been at his imperious best in New York so far, not dropping a set or a bead of sweat en route to the quarter-finals, granted a walkover on Sunday as Mardy Fish withdrew due to health concerns.
The American's withdrawal represented another worrying development for the men's game over here, with Andy Roddick set to retire after his run at the US Open comes to an end, which you have to suspect will be Tuesday evening when he faces the formidable Juan Martin del Potro.
Top-ranked American John Isner failed to make the final 16 of a major for a fourth time this year, while Sam Querrey's talents have their limits and Ryan Harrison's are yet to be fulfilled.
While Tuesday sees the completion of the men's quarter-final line-up, the women's in already known following a day of overwhelming wins and a couple of upsets.
No stopping Serena
Agnieszka Radwanska and Angelique Kerber fell at the hands of Italian doubles partners Roberta Vinci and Sara Errani, who will battle for the right to play Ana Ivanovic or Serena Williams, who racked up three bagels between them on Day Eight.
It is hard to see anyone stopping Serena on her current form, increasingly so from this trio of quarter-final debutants at the US Open.
The other half of the draw offers far more substance, with Samantha Stosur looking to improve on a wretched record against Victoria Azarenka, while Maria Sharapova faces the combustible Marion Bartoli.
Sky Bet have cut Serena to 4/9 to secure her fourth title in New York, which may look short not out of line given she is 1/20 to oust Ivanovic (9/1) and will be just as short for her seemingly inevitable semi-final match, while her clashes with her two main title rivals, Azarenka and Sharapova, have been embarrassingly one-sided this year.
On the men's side, I am still finding it hard to look past Roger Federer landing an 18th title this year, but Novak Djokovic has been near flawless and Murray certainly found a new level against Raonic.
Murray has come back in to 3/1 after that win, having drifted out to 100/30 following his unconvincing display against Feliciano Lopez, with Djokovic heading the betting at 5/4 ahead of Federer (9/4).
Juan Martin del Potro (11/1) will have more belief of repeating his 2009 triumph after beating Djokovic to the bronze medal at the Olympics, while poor David Ferrer remains ignored at 40/1 despite looking on course for a semi-final appearance.
A double on Federer and Serena looks the smartest way to go while, but Murray the biggest threat to ruining that bet after sending out a real statement on Monday night.