Needle works
Tennis icon Boris Becker told Sky Sports that the game's current stars are too friendly towards each other.
Last Updated: 05/09/12 12:43pm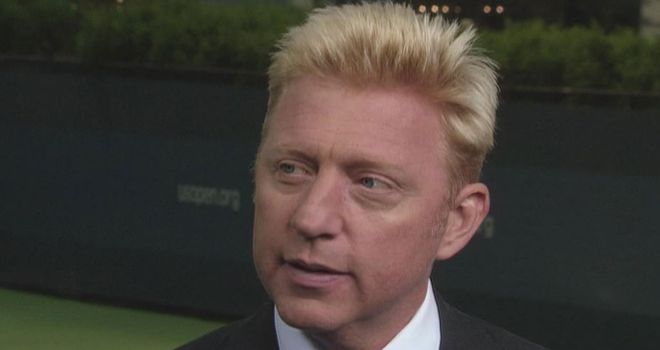 Boris Becker told Sky Sports that the current tennis era is lacking controversy.
The six-time Grand Slam champion, part of the Sky Sports punditry team at this year's US Open, reckons today's players are too placid, but also thinks the invention of the ball-tracking device, Hawk-Eye, has led to fewer on-court tantrums.
"Some of the fans talk to me and say: 'Your days were more fascinating, as there were more personalities and raw emotion. You really cared and when you were upset you broke the racket'," said Becker, who won the men's singles at Flushing Meadows in 1989.
"I think that tennis is a bit too friendly; everybody says: 'Good match' after the contest, but it is hard to believe when you are playing for millions of dollars and Grand Slam titles.
"Hawk-Eye has been great because you never want to lose a match because of a poor call, but I sometimes wish there were more arguments."
Antagonistic
Becker's fellow analyst, Annabel Croft, says there was plenty of needle between players when she featured on the WTA Tour in the 1980s, but she says that was only to be expected in a sport with such a "gladiatorial" nature.
"I played matches where players would sledge you on the change of ends, which wasn't very pleasant," said Croft, who reached the third round at the US Open in 1986. "The tensions were there in the locker room.
"Now, though, when I go in there now it seems a very friendly atmosphere; the girls are discussing what dresses to where on the court. I think that is something Martina Hingis introduced; she brought a more human side to it.
"However, tennis is such a gladiatorial sport and from a young age you have known nothing else but to be very antagonistic towards you opponent as it is a war out there.
"It is a strange way to live your life and it's only when you leave the sport or have children that you understand that these people are just human beings, something you don't see when you're in it."
Maximise
Andy Murray has kept his emotions in check in New York so far this year and will continue his push for a maiden Grand Slam title when he tackles Croatia's Marin Cilic in the quarter-finals on Wednesday.
The Scot has been in excellent form in recent months, winning Olympic gold at London 2012 and making the final of Wimbledon, and Sky Sports' Greg Rusedski thinks the appointment of eight-time Slam winner Ivan Lendl as his coach has been a key factor in Murray's success.
"Ivan was one of the most professional guys on tour when it came to nutrition, preparation, everything was 100 per cent perfect and he did everything to maximise his career," said Rusedski, who lost in the 1997 US Open final to Australia's Pat Rafter.
"He is a perfect fit for Murray as he lost in four major finals before going on to win eight Slams. He can relate to what Murray is going through and can say to him: 'Why are you arguing with me? I've done it all before.'"