One step a-head
Greg Rusedski believes Andy Murray's improved attitude should carry him into the US Open final.
Last Updated: 06/09/12 9:42am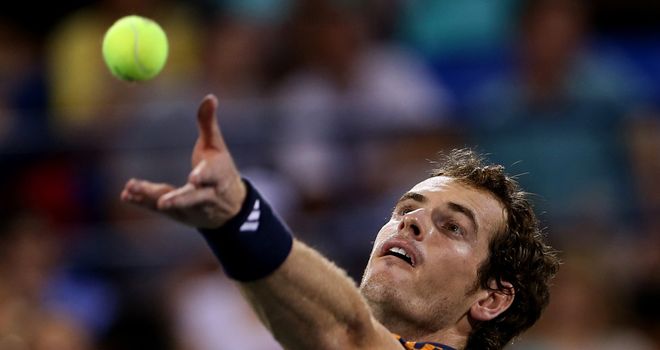 Greg Rusedski believes Andy Murray's improved attitude should carry him into the US Open Final.
The British number one overcame a major scare against Marin Cilic in Wednesday's quarter-final and needed to battle back from a set and 1-5 down before eventually triumphing in four sets.
Sky Sports pundit Rusedski was impressed by the Scot's temperament when he was placed under the most extreme pressure and says he will be full of confidence ahead of his last four clash with Tomas Berdych - the surprise conqueror of Roger Federer - on Saturday.
"I'm not worried one bit about Andy Murray going into the semi-finals," he told Sky Sports.
"He's going to play well, he's going to start well and he's going to have a real chance of getting to the final.
"He finished off well and that's one of the keys and on top of that he has two days rest with Thursday and Friday off. He's got [coach] Ivan Lendl, who has got to the final eight times in a row, so he'll know how to prepare over the next two days.
"There's a lot of things that look positive and what's so optimistic for me about Andy right now is his tremendous attitude.
"He's staying calmer out there. He's not 100 per cent perfect in doing that like Roger Federer yet, but he's really made vast improvements in that area."
Sparse
Murray initially appeared to struggle in front of a sparse crowd after the match was moved to the Louis Armstrong Stadium for scheduling reasons.
But even though Murray was in a perilous early position early, Rusedski never doubted that he would come through to book a last-four slot.
He said: "It wasn't looking very good for Andy Murray, but even if he'd have lost the second set I still think he would have found a way to win that match in five sets.
"He's shown really good determination and it shows how good a player Murray is that he can turn things around - and it's always the better player who finds a way to get it done in a three-out-of-five set match.
"I think he was just nervous to be quite honest. The change of court really put him off for some strange reason and I don't understand why.
"If you're playing on Louis Armstrong it's a little bit quicker, so you use the sliced serve out wide and make sure your feet get going because you don't have as much time on the ball as you do on Arthur Ashe Stadium.
"Once he got his teeth into the match, got a little bit more aggressive and got the first break back then Cilic got a little bit tight. He found a way to break him again and came through the tie-breaker.
"It was pretty smooth sailing. It was the Andy Murray we wanted to see throughout the championships.
"Let's not worry about it. It was still a match under three hours and he came through."
Control
Cilic appeared to have the match under control after going two breaks ahead in the second set - and even after Murray fought back the Croatian wasted several opportunities in the tie-break.
The 23-year-old was blown away in the final two sets and while Rusedksi refused to label him a "choker", he said he will struggle to comes to terms with such a high-profile exit.
"This is a nightmare loss," he said.
"He was up two breaks. One break is one thing, but on top of that he was leading in the tie-break and was serving for it twice.
"It's one of those matches that really, really hurts you and you have a sleepless night. This is where his coach Bob Brett has to say 'look at the positives, you were in the quarter-finals, you're moving up and you're nearly in the top 10 again'.
"It's always been those slight fragilities when push comes to shove and he's got to push himself through. Had he got up 2-0 in sets and lost in five it would be less painful than having dropped that second set.
"The way he went away in the last two sets is really painful because he lost 10 games in a row and that's hard to take after being so dominant for a set and 5-1."