Murray's a fighter
Sky Sports' Tim Clement celebrates the moment Andy Murray proved he was part of the 'golden generation'.
Last Updated: 11/09/12 8:33am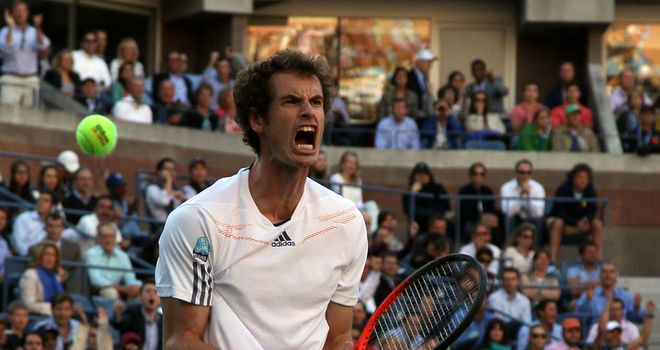 In the most difficult possible way, the only way he knows, Andy Murray finally became a Grand Slam champion at the 2012 US Open.
At two sets to love up he looked to be cruising, although we knew better, we knew this was never going to be straight forward.
The British No.1 just could not keep Novak Djokovic down for a straight-sets win, as the wind died down the Serb arose with all of his weapons to power back into the match.
A fight back was inevitable, this was the reigning champion after all, , unbeaten in 27 hard-court Grand Slam matches, a man who never knows when he's beaten, a man who prevailed against the warrior that is Rafael Nadal in the longest major final ever.
But Murray is a fighter too, and his talents are equal to the top guys.
The Scot regrouped and found the belief and composure again in the final set, racing into a 3-0 lead and then on to 5-2, before serving out the match in surreal circumstances.
Whether Djokovic's medical time-out was tactical is up to mere circumstantial debate, but it left Murray to mull over a position from where anything other than victory was unthinkable.
Not even Ivan Lendl's soul-healing powers could save him from becoming the first man ever to lose all five of his Grand Slam finals, especially having had a two-set lead.
Unable to tolerate the timeless tension, the 25-year-old rolled back the years and found comfort in the childlike act of practicing hitting with the back-wall, passing the agonising minutes which must have felt like hours.
But this was Murray the man, never more focused and driven, never more ready to prove himself to the world.
A Djokovic error and an ace, challenged to be so, left Murray deeper in a daze, so much so that he forgot what side he was serving from - it was so close, too close to bear.
Disbelief
The Serb pulled a point back but another error left the Brit on the brink and when his opponent went long again, sheer disbelief descended on the newly-crowned Grand Slam winner.
He sunk to the ground, not once but twice, before being advised not to repeat his Olympic antics of trying to climb into his box.
Limping back to his chair, unable to express the sheer significance of it all, we waited for an explosion of joy, but the moment never came.
As it construed, Murray had actually lost a toenail during the defeat and it was only when the adrenaline departed that the pain prevailed.
It was somewhat fitting, however, Murray knows not success without enduring a heavy dose of suffering.
I had the pleasure of watching from just behind the Scot's team box, it's fair to say they were equally stricken by the amazement of what had finally happened.
Well, other than Ivan Lendl, who we daren't guess as to what is occurring inside his mind.
Tribute must be paid to the coach's work, just nine months on from his appointment Murray's development has been remarkable.
An immense hunger has also been evident within Murray, but he has always struggled to manage that greed for success, often appearing more like a spoilt child than a passionate and driven sportsman.
Things have, if anything, been simplified for the 25-year-old, the respect he holds for the eight-time Grand Slam winner is clear to see and has helped ensure that he gives 100 per cent all of the time, no time for strops.
Knowing he gave his best in this year's Wimbledon final somehow eased the pain and helped him bounce back for the Olympics.
Claiming gold went a long way to liberating the mind from the fears and doubts that have haunted Murray, but they still lingered in the locker room as he awaited his fifth major final.
Something in his mind has clicked however, allowing him to retain his cool when things work against you, as they do so often in tennis, be it a net call or an opponent finding their groove.
Djokovic was always going to find his level at some stage but Murray rode it out and seized his chances when they came around again in the fifth set.
The route has not, of course, been quite that simple, so many things have happened during his life that have shaped Murray the person, from the tragedy in his hometown in Dunblane to the 2011 Australian Open which left him absent of belief and slumped in wretched form.
However, as Murray alluded to it, it's not a bad life being paid to play tennis.
Having to play as an understudy to a 'golden generation' was hard to take, but proving he is part of that elite group after such a tough journey is the ultimate reward.