Mr Motivated
Andy Murray's drive and determination earned him a deserved Grand Slam title, says Greg Rusedski.
Last Updated: 11/09/12 2:08pm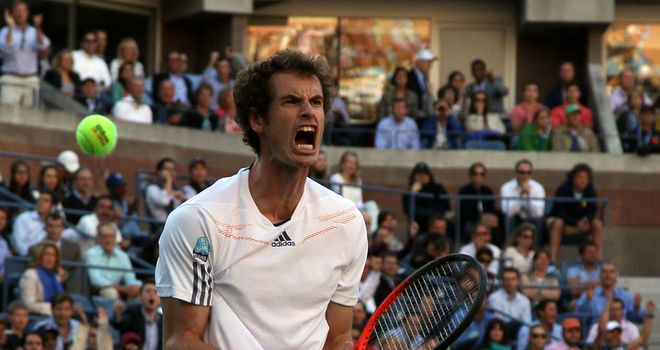 Andy Murray's drive and determination earned him a deserved Grand Slam title, Greg Rusedski told Sky Sports.
Murray became the first British men's player to win one of tennis' four majors in 76 years with an epic five-set victory over Novak Djokovic at the US Open.
And Rusedski, who played alongside and against Murray during his career, always knew the Scot had something special about him.
"What a moment for him," said Rusedski. "I remember playing with Andy when he was 17 and you just felt something when he hit the tennis ball, he had a great knowledge of the game and did everything a little bit differently.
"I remember being on the airplane back from a Davis Cup match and Tim Henman had hired a private jet. Andy said: 'that's going to be me one day'. He knew where he was going. He was different to all the other players coming up and his drive and determination is why he has it.
"He knows himself better than anyone else. From the age of 19 he was in the top 10 and he knew what he needed. He studies the game of tennis.
"They say his coach Ivan Lendl used to try other players' rackets during his career to see how the ball came off them. Well, Murray understands all of those things, from equipment to player strategy. He has left no stone unturned and that's why he's so deserving of this success."
Annabel Croft pointed out Murray's coach Lendl and the team of experts he has built around himself, have been key to his success.
"Andy's been very clever all the way through his career in terms of how he's chosen his coaches, how he's dispensed with them when he wasn't happy with them and how he's then taken a little bit more out of the next one," she said.
"He's had the same team around him for quite some time now - obviously Lendl is a relatively new addition - but the rest of the team have been there for quite a while. He obviously enjoys their company and he's got a great family unit with him on tour.
"He's definitely someone who needs time away from the stress of the court. Tennis is a very insular business and there's nowhere to hide when you're out there. Every player's psyche is out on display in a match but in the final he showed his strength of character and how strong in his mind he is."
Inspiration
Rusedski believes this victory will now go on to inspire Britain's rising stars to aim for the top and encourage more kids to take up the sport on these shores.
"This will be a massive boost for tennis in Britain," he said.
"Andy hits with the younger guys like Liam Broady and Kyle Edmund. They now have someone to look up to and can say: 'if Andy Murray can do it, why can't I do it?'
"Last year Oli Golding won the US Open juniors title and Broady got to the boys final this year, so it's starting to trickle down and hopefully he'll inspire more kids to play in Britain."
Croft added she believes Murray will also inspire the country's women to greater heights as well, in particular his Olympic mixed doubles partner Laura Robson.
"This will inspire Laura as well," Croft said. "She's pretty close to Andy Murray and has spent a lot of time on court with him in the mixed doubles. As we know he chose her as his partner at the Olympics, over Heather Watson, which was a very painful decision for Watson, who had won a WTA doubles title the week before. But he saw something a little special in Laura and I think this will really motivate her.
"She did fantastically well in the first week here, beating two former champions and pushing the defending champion Sam Stosur, and this will encourage her to practice even harder."