Clijsters clash for Robson
Laura Robson will take on Kim Clijsters in the second round of the US Open after she beat Samantha Crawford.
Last Updated: 28/08/12 6:03pm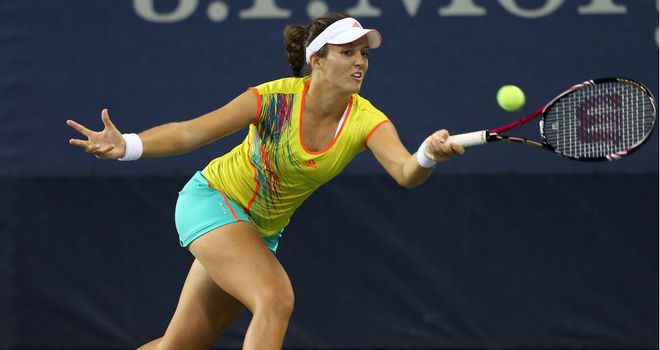 Laura Robson will take on Kim Clijsters in the second round of the US Open after coming through a tight tussle Samantha Crawford at Flushing Meadows.
The 18-year-old was not at her best but won the points that mattered in a 6-3 7-6 (8/6) victory - with a clash with three-time champion Clijsters, who is playing in her final professional tournament, her reward.
Robson was playing in a grand slam as a direct entrant on ranking for the first time and found herself in the unusual position of being the senior player.
American Crawford, 17, came through qualifying and is ranked only 393rd compared to Robson's 89, so this was a great opportunity for the British No.3 to reach the second round for the second successive year.
The pair have similar games, hitting plenty of winners but also making a lot of errors, but it was Robson who was just the steadier in the opening set.
Robson had the better of three straight breaks to lead 5-3 and then held to take the set, but quickly found herself down a break in the second.
Smashed
Robson hit back to level at 3-3 and from there both players held serve to take the set into a tie-break.
Robson donated the first set point to her opponent with a double fault, and Crawford should have taken it but smashed the ball straight back to her opponent after the British player's return had flown up in the air off her frame, and then dumped a volley long.
The American certainly possesses a lot of power but Robson traded well to bring up her first match point and took it when her opponent drilled a return wide.
Robson said: "She was really tough. I'd never seen her play before. For the first few games I was just trying to stick with her basically because she seemed to rip every shot that I hit.
"She definitely played like she had no pressure on her. It was an interesting match but I thought I played okay. She's taller than me so she felt older."