Britain's Heather Watson pleased illness hasn't forced her to miss Wimbledon
Heather Watson has expressed her relief at being able to compete at Wimbledon after illness threatened to rule her out.
Last Updated: 14/06/13 11:48am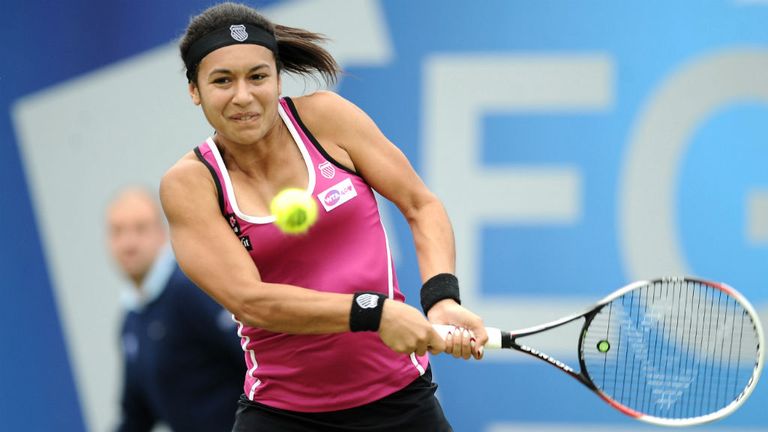 Watson was able to return to action in time for the French Open but, just weeks beforehand, the Guernsey-born player was struggling to even go for a walk and returning to high-level tennis seemed a long way off.
"Oh my god, I was so worried," exclaimed Watson. "I was getting all panicky and my dad was going, 'What's wrong', and I said: 'I can't miss Wimbledon.'
"Tennis players' careers are so short and you really can't miss one. My dad calmed me down and it was a big relief when I realised I would be okay."
Despite losing in the first round at Roland Garros, the 21-year-old was able to get her first win since April at the AEGON Classic in Birmingham, beating Stephanie Voegele in the first round.
"I'm very pleased with that win," she said. "There's nothing like winning in general, and especially given the time out I've had and not knowing if I'd be coming back and if I'd be the same player when I did. It's very reassuring."
Watson has since stepped up her efforts in an attempt to be at peak condition when the action gets under way at the All England Club at the end of June, and she believes her run to the third round of last year's tournament will stand her in good stead.
"That was huge for me. I hadn't won in singles before even in juniors. It was the first time I reached the third round at a grand slam so I hope I can match that this year or do better," said the former US Open junior champion.
The illness means that the pressure will be off the youngster to a degree this year but Watson refuses to use it as an excuse.
"At Roland Garros everybody was saying I did really well and my opponent played well and not to worry, but I still felt I should have won the match," she added. "My motto is: Impatience is a virtue."