US Open: British No 2 Heather Watson can't wait to start winning again
Heather Watson admits she is feeling more 'confident and comfortable' with her game ahead the US Open.
Last Updated: 26/08/13 5:16am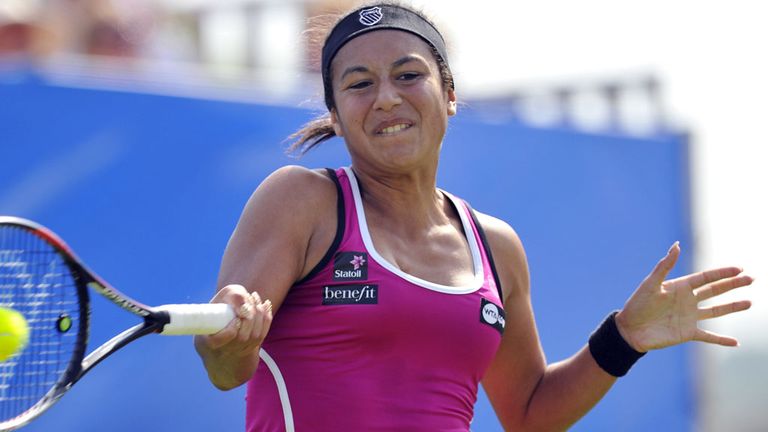 The British No 2 has endured a tough year after being diagnosed with glandular fever and has not yet managed to get back on track.
After two months out recovering, she returned at the French Open in May but has won only four matches since and never more than one at any one tournament.
Her ranking has slipped from a high of 39 in February to 77 going into the final grand slam of the year, but Watson insists she is now fit and raring to turn things around.
Playing well
"I've done a lot of weights, a lot of running, so I'm fit and playing well," said the 21-year old.
"I'm feeling a lot more confident and comfortable with my game. In Washington I was able to get a win, and just one win can boost your confidence so much.
"I feel like it's the start of the year for me, not the end. I'm just glad to be back and I can't wait to start winning again."
However, some effects of the glandular fever remain, and she said: "There's still certain things I struggle with, like sleep and just day to day how I feel, energy-wise, but it takes a long time to get out of your system and for your body to get back in regular routines.
"I felt I came back too soon but I didn't want to miss out on Paris and from then on, coming into Wimbledon, I wasn't playing enough tennis.
"There's no way you're going to play well without the work you put in and the hours. I didn't have a great Wimbledon or grasscourt season.
"When you don't play you lose a bit of your eye for the ball and movement, and you're not as confident because you know you haven't played that much, and that was how I was feeling."
New partnership
Watson has made big changes since her first round loss to Madison Keys at Wimbledon, parting from long-time coach Mauricio Hadad and bringing on board former British No 1 Jeremy Bates to help her mould her tactics and adopt a more aggressive game style.
There have been a few encouraging signs too, notably last week in Cincinnati when she recovered from losing the first set heavily to beat former French Open champion Francesca Schiavone.
There was concern when Watson then retired from her first match in New Haven because of a sore hip, which may have been caused by her overcompensating for a niggling elbow problem.
"He knows what he's talking about, especially when it's coming in and volleying," said Watson of Bates. "He's such a nice guy and we get along really, really well."
And the Guernsey girl is confident the hip is no longer an issue, saying: "I've been training the last few days, it's been really good, I haven't felt it at all and I'm just taking care of my elbow."
Making the second round in New York will certainly not be easy, with 21st seed Halep one of the form players of the tour.
She has won four of her last seven tournaments, including in New Haven on Saturday, where she beat Caroline Wozniacki and Petra Kvitova back-to-back.
"I've got a really tough first round, she's had the best year of her career," added Watson.
"But it's a grand slam and no matches are easy. I see every draw you get in a slam as a good draw."