US Open: Heather Watson gutted after three-set defeat
Heather Watson was left in tears after she suffered a three-set loss to 21st seed Simona Halep at the US Open.
Last Updated: 28/08/13 8:02am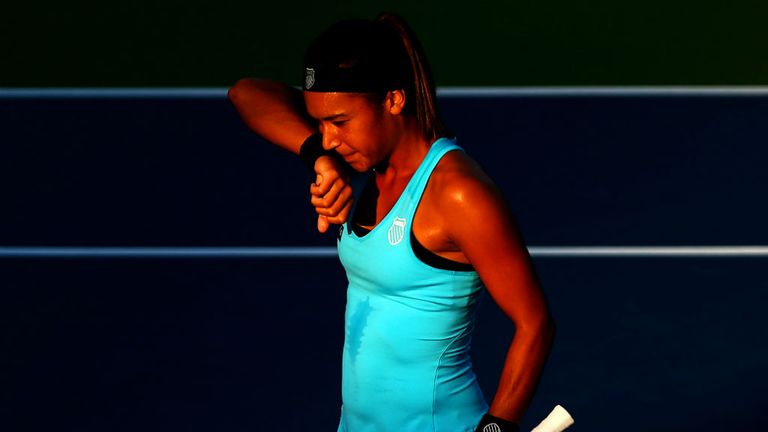 The 21-year-old looked on course for the second round when she won the first set on Court 11.
However the match turned on the ninth game of the second set, when Watson should have held for 5-4 but from 40-0 up she lost five points in a row, double-faulting on the last one.
And from there Watson fell away to eventually go down 4-6 6-4 6-2.
Watson, who is still looking to rediscover her best form after suffering from glandular fever earlier in the year, said: "I thought I played better than I have been. I was playing one of the hottest players on tour right now. She's playing very well. She made a lot of balls.
Cramping
"I thought I played a good two sets and in the third set my fitness let me down a bit. I was cramping in my legs. I think partly because in the first two sets I was a bit tight.
"All in all I'm pleased with how I played but I had my chances definitely and I had an opportunity to win that match in two sets. But she's got the confidence and she won the points when it mattered.
"I think that's why it hurts a lot is because I was so close. But if I keep making opportunities for myself I'll take some."
Watson looked completely drained at the end of the match and she is not sure whether her fitness problems are still a legacy of the glandular fever, which forced her off the tour for two months between March and May.
She said: "I've been doing a lot. I've been running about four times a week, I've been in the gym every day doing weights. I don't quite know what it is.
"It could be a few things - just getting back to match fitness because when you're practising you play free and loose but in a match situation there's a lot more pressure."