US Open: Andy Murray too hot for Florian Mayer, says Greg Rusedski
Humid conditions at the US Open may have tired Andy Murray, but he was a class above Mayer, says Greg Rusedski.
Last Updated: 02/09/13 10:07am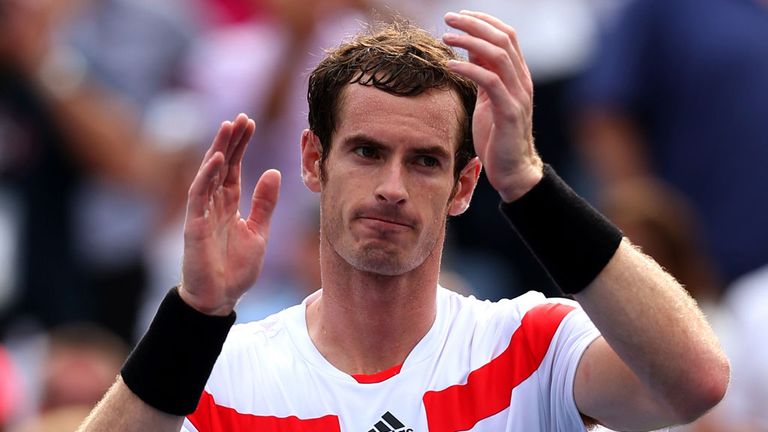 The reigning champion recovered from a sluggish start to sink his German third round opponent 7-6, 7-2, 7-2 to set up a final 16 clash with unseeded Denis Istomin of Usbekistan.
Former US Open finalist Rusedski praised Murray's performance and tipped the Wimbledon winner to improve further still as he acclimatises to the heat at Flushing Meadows.
"It's very humid out there," Rusedski told Sky Sports.
"Andy played his first match in the night session and then in cool conditions in his previous match so to get used to this it took him a bit more time - but in those last two sets he played as well as he possibly could.
"He was seeing that tennis ball like it was a football; he was striking it beautifully.
"Mayer actually played pretty well but you just can't sustain it against Murray. His defence and offence is just such a high standard at the moment.
"Humidity is tough to deal with because they haven't been playing in these conditions this year - Cincinnati was a little cooler and so was Montreal - but he found a way to get the job done and he's going to get more and more acclimatised the more he plays."
Too good
Rusedski credited Mayer's performance on Sunday but pointed out that when Murray stepped up his performance levels in the second and third sets the world number 47 - much like the Brit's previous opponents in this tournament, Michael Llodra and Leonardo Mayer - simply couldn't handle him.
"Mayer's returns were excellent - there was great depth on them - but Murray wasn't moving his position; he was so strong, squatting down, taking the ball early on the rise and getting good depth off that shot," explained the former British number one.
"When Mayer plays a guy ranked, say, between 15 and 100 most of the time he's going to get a short ball back or he's going to be able to sneak in and take the volley in the air. But Murray did that so well and Mayer never changed it up.
"He needed to come forward or step back - but that's not his style.
"It's been a great draw for Murray, though. He's not had any really difficult matches; he's had tricky opponents and different styles to deal with but nobody you felt could actually push him or possibly beat him.
"His first test will be against Stanislas Wawrinka or Tomas Berdych in the quarter finals.
"In terms of Istomin you've got to think he's going to come through in three or, if he doesn't start so sharply, then maybe he'll drop one set."