US Open: Andy Murray v Denis Istomin preview
As far as Andy Murray's next US Open opponent Denis Istomin is concerned, mum always knows best.
Last Updated: 04/09/13 6:57am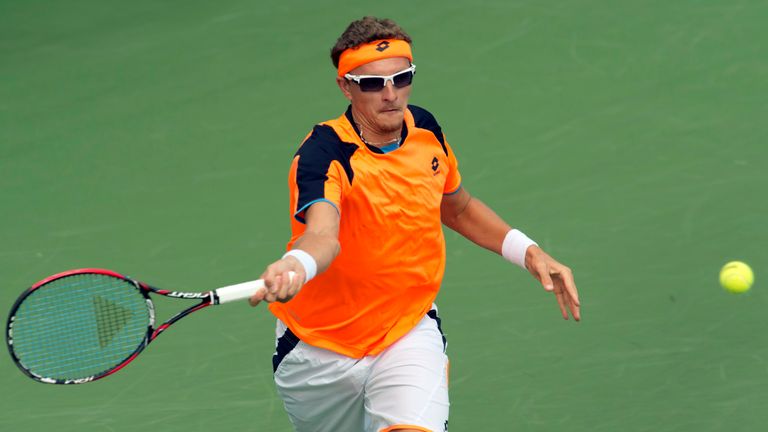 The 26-year-old from Uzbekistan is unique among leading male players in that he is coached by his mother.
Klaudiya Istomina, a keen player herself, introduced her son to tennis and has coached him throughout his career.
Istomin said: "She always tries to help me with everything, not just tennis, normal life as well.
"She gives me good words to improve my tennis, my life, everything. I'm happy to be coached by my mum."
'Normally right'
He concedes it does have its downsides, though, such as not being able to answer back.
Gesturing to indicate a clip round the back of the head, Istomin said: "I try to say my way as well. Sometimes I say, ' I can't feel the ball like you say'.
"She says: 'Do it like this and you will be okay. Just listen to me.' She's normally right. I will try to fight but in the end I give in."
Istomin is ranked 65th in the world and is through to the fourth round at a grand slam for only the second time after beating Andreas Seppi in five sets on Sunday.
Murray has won their only previous meeting, in Brisbane this year, but Istomin is a dangerous big-hitter who recently took a set off Novak Djokovic in Montreal.
The Uzbek said: "I'm looking forward to it. I've just played him once, I lost in two sets. But it was a close match. I will try to play the same tactics as I did there and we will see what happens.
"He's a great returner. He returns almost everything. The key is my serve. I will try to serve better than usual.
"He moves on the court incredibly but I will try to move him more and try to beat him.
"If I win, it will be the biggest match of my life. I'm looking forward to this match. I will try to play my game and concentrate on winning."
Experience
Murray may hope the match is played on Arthur Ashe rather than on Flushing Meadows' second court, Louis Armstrong, where he always has trouble and dropped a set against Leonardo Mayer in the second round.
Istomin has played on Ashe once before, in 2010, when he lost to Rafael Nadal in straight sets.
He added: "I have never played on Armstrong. I've played on Ashe once. But even if he (Murray) has trouble, he is still playing really well."
Murray was coached by his mother Judy until he was 12 and she remains an important part of his support team
The Scot said: "There's not loads of people that get coached by their parents. A lot of them do from a young age, but not so much when they're on the tour.
"Obviously it works for him. Technically he's very sound. He's a good player. He hits the ball very flat. He served extremely well I think in his match (against Seppi). I saw some of the stats at the end.
"He's played well. He had a very good match with Novak in Montreal. He's had some good wins this week as well."
Watch the 2013 US Open live only on Sky Sports. Upgrade to Sky Sports on Sky and get Sky Broadband Unlimited FREE FOR 12 MONTHS