US Open: Rafael Nadal wants to enjoy 13th grand slam success
Rafael Nadal wants to savour his US Open title before turning any thoughts towards further grand slam exploits.
Last Updated: 10/09/13 10:06am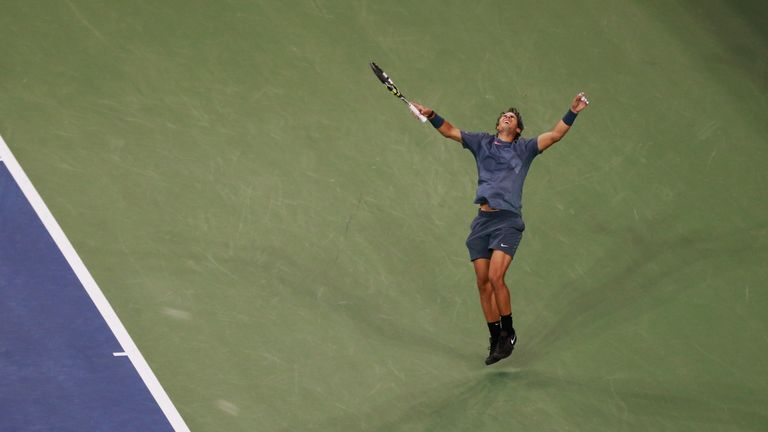 Nadal claimed a 13th grand slam - and a second US Open crown - with a 6-2 3-6 6-4 6-1 win over Novak Djokovic.
The victory means the Spaniard is just one behind Pete Sampras in the all-time list, while old foe Roger Federer has 17 titles.
However Nadal is refusing to set any future targets just yet.
"Let me enjoy today," he said. "For me, it is much more than what I ever thought, what I ever dreamed.
"I said that when I had few slams less, but it's true. Only thing I can say is the same like I do every time. I'm going to keep working hard.
"I'm going to keep doing my things to have more chances in the future to be competitive and to give me more chances to win the tournaments like this one.
Amazing
"So that's what I'm going to try. Then you never know when that starts, when that finishes, but 13 is an amazing number."
Nadal, though, does admit that winning all four majors in the same year is something that is beyond him.
Only Don Budge (1938) and Rod Laver (1962 and 1969) have achieved the feat - and Nadal can't see it happening again anytime soon.
"To win all four Grand Slams in one year I think today is impossible for anyone. That's my feeling," said Nadal, who now has eight French Opens, two Wimbledon, two US Open and an Australian title amongst his 60 career crowns.
"Today the best players are there all the time, so to win a tournament like this you have to win against Roger (Federer), against David (Ferrer), against Andy (Murray), against Novak.
"These players are not losing in the early rounds, so that makes it impossible be 100 per cent in every tournament. So when your level is a little bit lower, you will lose against these players 100 per cent."