King of New York
Sky Sports brings you all the best of the action, reaction and opinion from the US Open.
Last Updated: 10/09/13 9:25am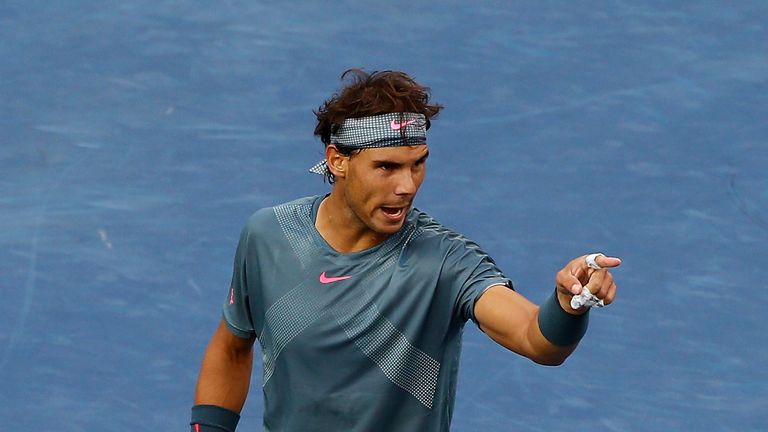 Nadal claimed the 13th grand slam crown of a sensational career with a four-set win over his old foe at Flushing Meadows.
And following Nadal's triumph in New York, we bring you all the best of the action, reaction and opinion.
Nadal claims second US Open
Nadal won his second US Open title and 13th grand slam crown after defeating Djokovic 6-2 3-6 6-4 6-1 at Flushing Meadows in New York. The Spaniard added the 2013 trophy to his 2010 triumph, when he completed a career Grand Slam, and capped a year which has now seen him capture 10 titles and stretch his season winning record to 60 victories and just three losses. Djokovic lost 11 of the last 13 games with his challenge fatally undermined by 53 unforced errors to Nadal's 20.
Nadal keen to savour success
Nadal insists he is just looking to savour his US Open title before turning any thoughts towards further grand slam exploits. "Let me enjoy today," he said. "For me, it is much more than what I ever thought, what I ever dreamed. I said that when I had few slams less, but it's true. Only thing I can say is the same like I do every time. I'm going to keep working hard."
Djokovic - I'll keep on fighting
World No 1 Djokovic has vowed to bounce back from his four-set loss to Rafael Nadal in the US Open final. "I have to use it. It's part of my life," Djokovic said following the loss that saw him make 53 unforced errors. "Many times you fall as an athlete and you have to learn the lesson and keep on going, keep on fighting, keep on improving. That's what we are here for. I'm still 26 and I believe the best time for my career is about to come. I feel that. As long as I believe it, the fire of the love toward the game is inside of me."
'King of the hardcourts'
Sky Sports pundit Greg Rusedski believes Nadal's US Open victory shows that the Spaniard can reign supreme on more than one surface. "They call him the 'King of Clay' but he's the King of Hardcourts' now," said former British No 1 Rusedski. "This is probably the greatest comeback I have ever seen in sport. He didn't play in the Australian Open and he lost in the first round of Wimbledon so it's a massive leap to get to this point. There's no question who is the number one player on the planet right now."
Nadal v Djokovic - As it happened
Relive Nadal's sensational victory over Djokovic with our interactive text commentary from the match. Click here for the final as it happened, or click here for the best of the images. Alternatively you can watch highlights or here