Screams and dreams
Alex Ferguson headed to Flushing Meadows to drink in the atmosphere of the US Open - but found the cost of beverages rather hard to stomach!
By Alex Ferguson
Last Updated: 29/08/13 5:55pm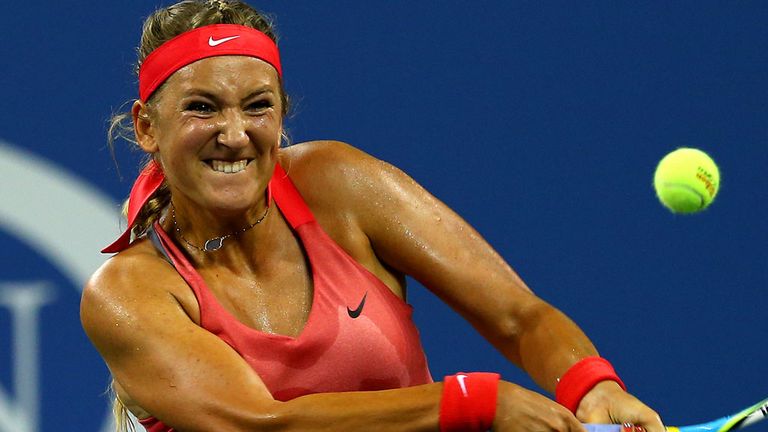 But from a queuing perspective, the trip proved relatively stress-free. The key? Don't get there too early, and stay as late as you can.
The day threw up plenty of talking points, here are my top eight...
1) Beautiful weather, beautiful day
It was so sunny and so hot that the corporate-freebie-handout that they always do at these opens to ALL the punters was very useful. No, it wasn't free water (that's $5.00 per bottle, I'll have you know!), it was sunscreen. Probably rescued me from turning me into a British crisp. Helped the mood, too, which was continually smiley - apart from the bloke who couldn't get into the Heather Watson match, who told the security guard to [do something physically impossible].
2) Azarenka SCREAM
We managed to get into the tennis coliseum known as the Arthur Ashe on Tuesday night (we know people who know people who know people, in Sopranos speak), and after watching Novak Djokovic destroy his opponent, we watched Victoria Azarenka struggle with hers.
The grunts could be heard almost all the way to the top of the stadium, and by mid-way through the first set, some members of the crowd decided to mimic her pig-like squeal. And the comedians were in a luxury box. Oh, and you can look at Azarenka's 6-0 6-0 victory and think "That was easy", but if we're honest, it was anything but. If Ms Pfizenmaier of Germany had taken her chances, Azarenka would have been in a battle.
3) Not elementary for Watson
We tried to get into the Heather Watson match, but it was too late in the day and Court 11 was too packed. And thankfully after we learned the result, we're glad we didn't have to go through the depression of her three-set loss.
Maybe if I'd been there to roar her on the result may have been different. Good luck, Laura!
4) Mon Dieu!
Possibly the best story of the day was the one I told to three French reporters, who I went across to get the Gael Monfils score from, because I'd just seen Tommy Haas crush the hopes of one of their Frenchmen, Paul Henri-Mathieu in three sets.
Monfils won easily, I was told by the French reporters. I told them Mathieu had lost. All three of them realised that they'd forgotten about the OTHER French challenger. Cue dropping of cigarettes and sprint to the media centre. Sky Sports: Doing Our Bit for Anglo-French Relations.
5) Travel problems? Sorted!
We arrived at Flushing Meadows with the slight fear that we would be queuing for another two hours to get into the arena. After all, that had been our experience on Monday. Well, it was not the case. First of all, we got better parking (more by luck than design), which cut out the need for a bus, and secondly, there was NO-ONE in the line. And as you joined the sea of people coming off public transport towards Flushing Meadows, there was a man in a megaphone directing traffic. It was all, er, easier.
6) Capacity?
We'll be honest, it would have been nicer to see everything a little bit fuller at the US Open this year. We reckon capacity was around 75%.
Not bad for a weekday - and certainly made it easier to get to see the matches we wanted to see over the course of the two days - but it shows that Americans have less money to spend on tickets (in economic terms it's known as 'discretionary spending').
If you're a tourist and you're in New York and reading this, get over to the US Open! It'll be a fantastic experience!
7) New York, New York
Funnily enough, we never heard Frank Sinatra's "New York, New York" at Flushing Meadows over the last couple of days - and by God, was I waiting for it.
Of course, we got to hear a bit of Billy Joel and Bruce Springsteen, as well as some 'Electronic Dance Music' (America's currently in love with bad dance music) reverberating from the Food Village (cue middle-aged country club woman boogying along to Aviici's 'Levels'), and there was a band playing some 60s ballads.
Our favourite bit was in the Arthur Ashes, when the song lyrics were put on the screen to different songs. In other words, get there early, and get into the karaoke.
8) Don't worry about the money
The US Open might not be terribly expensive tickets-wise, but paying $14 for a salad, $5 for a soft drink, $8(ish) for a beer definitely adds up.
As someone said to me: "Bring $200 with you for the US Open, and it's like Vegas: Be happy if you come away with anything after." With those prices, it's funny how sober you remain.
But one thing: If you're going to buy a cocktail, make sure you buy one that also has souvenir glass with the names of all the US Open winners over the years. There's a name to make you proud, British tennis fans.