ATP World Tour Finals: Novak Djokovic to meet Roger Federer in group stage in London
Novak Djokovic and Roger Federer were drawn together in a 'group of death' at the Barclays ATP World Tour Finals.
Last Updated: 04/11/13 5:16am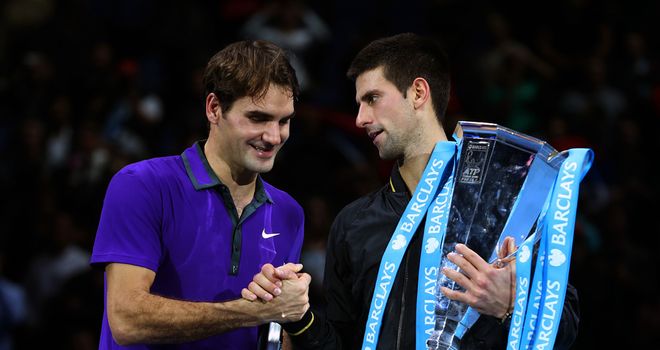 The pair, semi-finalists at the Paris Masters, are in Group B at the season-closing tournament in London along with the big-serving Juan Martin del Potro and ninth-ranked Frenchman Richard Gasquet.
Djokovic is gunning for his third title in the event after wins in 2008 and 2012 while Federer, a six-time finals winner, is making his 12th straight appearance.
World No 1 Rafael Nadal, featuring for the sixth time but still seeking a maiden title at the season-ending event, will be a favourite to come through with David Ferrer, Tomas Berdych and Stanislas Wawrinka drawn alongside him in Group A.
It is the second year in succession that the World Tour Finals has followed straight on from the final Masters series event of the season in France.
Schedule
Last year most of the competitors at the O2 Arena lost early in Paris but this year the eight in London were also the quarter-finalists across the Channel.
That has given World Tour Finals organisers a headache, and instead of scheduling the groups on alternate days they will play one match from each group on Monday.
Berdych and Wawrinka will open proceedings on Monday afternoon, with Del Potro playing Gasquet in the evening.
Tuesday will be a repeat of the Paris semi-finals, with Nadal taking on Ferrer and then the blockbuster clash between Djokovic and Federer.
Federer will be looking for revenge after losing to Djokovic in the semi-finals in Paris on Saturday in their first meeting of the season.
It has nevertheless been an encouraging two weeks for 17-time grand slam champion Federer, who had looked a doubt even to qualify for an event he has won six times before he reached the final of the tournament in his home town of Basle last weekend.
Top duo
Federer is always a danger indoors but Djokovic and Nadal will arrive in London as the men to beat.
Djokovic defeated Federer to lift the trophy for the first time at the O2 last year while it remains the biggest tournament that Nadal has not yet won.
With Murray still recovering from back surgery and Jo-Wilfried Tsonga and Janko Tipsarevic not qualifying, there will be three different names from 12 months ago.
Nadal is back after knee problems ruled him out last year, while Gasquet has qualified for the first time in six years and Wawrinka for the first time in his career.
Watch every session of the ATP World Tour Finals - which run from November 4-11 - on Sky Sports. Click here for coverage details.
You can catch all the action from the ATP World Tour Finals with a Sky Sports Day Pass. For more information click here