ATP World Tour Finals: Juan Martin del Potro ready for 'three finals'
Juan Martin del Potro has vowed to excite the fans at the ATP World Tour Finals, which gets underway on Monday.
Last Updated: 04/11/13 5:16am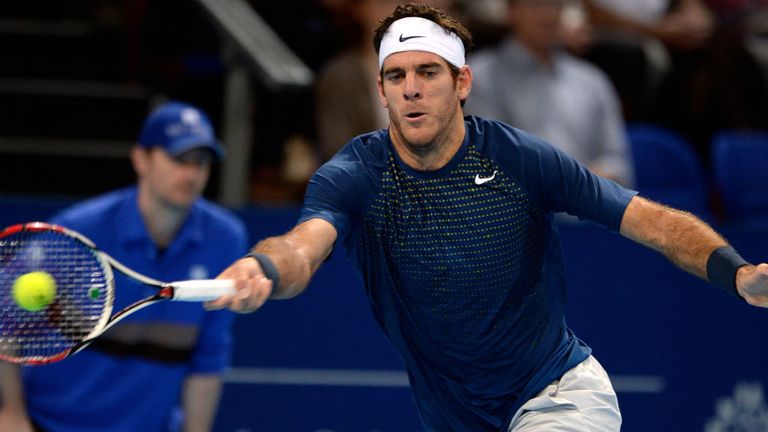 However, the in-form Argentine must navigate his way through a tough- looking Group A if he is to improve on what has already been his best season for four years.
The big-hitting 25-year-old begins his campaign against Frenchman Richard Gasquet, who he has beaten in five of their six previous meetings.
He will then take on second seed and defending champion Novak Djokovic and Roger Federer, who he lost to in the quarter-finals of the Paris Masters on Friday.
"It's a tough group," admitted Del Potro. "I will have three finals for sure. Maybe the other guys are the favourites against me but at this tournament every player can beat everyone and I have to be ready for them.
"I like to play here, I've always played good tennis. I feel something special with the fans here, they respect me a lot and I enjoy it. I will try to play even better than Wimbledon."
This has been Del Potro's best season since 2009, with the Argentinian winning four titles and coming desperately close to reaching the Wimbledon final only for Djokovic to triumph in five epic sets.
Two of his tournament victories have come in the last month, in Toyko and Basle, while he also beat Rafael Nadal to make the final of the Shanghai Masters.
Del Potro looked weary in losing to Federer on Friday, and he said: "I'm feeling tired; it's normal, I've played 18 matches in only one month, travelling to China, Europe and Argentina in the middle.
"But I'm doing well and I'm excited to get ready for this tournament and I know it's the last effort of the year. I will try to play at the same level I've been playing the last few weeks."
Group A features top-ranked Rafael Nadal, fellow Spaniard David Ferrer, Tomas Berdych and Stanislas Wawrinka.
Watch every session of the ATP World Tour Finals - which run from November 4-11 - on Sky Sports. Click here for coverage details.
You can catch all the action from the ATP World Tour Finals with a Sky Sports Day Pass. For more information click here