Sky Bet's Tim Clement previews the ATP World Tour Finals and offers up his top tips
Novak Djokovic is favourite as the ATP World Tour comes to a climax at the O2 Arena in London.
Last Updated: 04/11/13 5:18am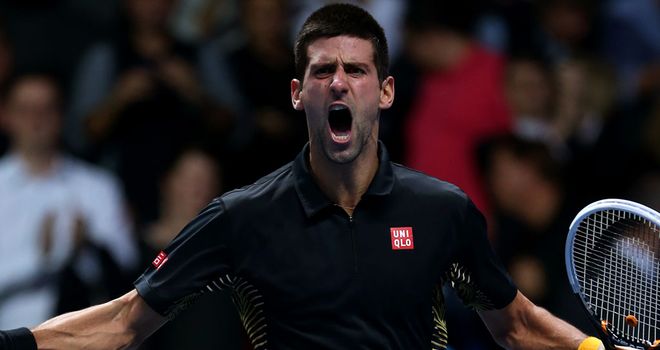 The Serb harbours vague hopes of regaining his world number one spot after Rafael Nadal failed to join him in the Paris Masters final, racking up a third-successive title in Bercy.
With Andy Murray still sidelined following back surgery, Juan Martin del Potro and Roger Federer are considered the other main contenders for the title, with the pair showing improved form towards the back-end of the season.
David Ferrer has certainly improved his credentials with his final run in Paris, while there are various reasons to dismiss the chances of Stanislas Wawrinka, Tomas Berdych and Richard Gasquet.
The latter will certainly not have appreciated the draw, having been placed in Group B alongside three of the four favourites, although he'll certainly be relieved to avoid facing Nadal again.
The court
The indoor environment at the O2 Arena replicates the conditions in Bercy, with slightly slower courts working against the concept that aggressive players should prevail. The Spaniards Nadal and Ferrer have certainly experienced less success indoors, but cases will be made for both this week.
Last year
Djokovic secured his second World Tour Finals title with a 7-6 (6) 7-5 victory over six-time champion Federer. The Swiss star was attempting to land a third successive title at The O2 Arena but was halted by an opponent far fresher than in his appearance in 2011, when fatigue was evident following one of the greatest campaigns the game has ever witnessed. It was a clean sweep for Djokovic, winning all five matches at the event, seeing off Jo-Wilfried Tsonga in the semis and Andy Murray, Berdych and Del Potro in the group stages.
The contenders (and Sky Bet odds)
Novak Djokovic (6/5)
As aforementioned, Djokovic will be looking to defend his title and reassert himself as the top force in men's tennis. If Nadal toils and the No 1 spot is up for grabs, it would take a brave punter to oppose the Serb taking his chance. Motivation will hardly be a problem either way, while fatigue should not be a major concern with the 26-year-old looking fit and focused in Paris. A gruelling final encounter with Ferrer will not aid his chances of prevail from a very tough group, but if any player has the reserves to cope with the schedule then it is the reigning champion.
Rafael Nadal (9/4)
The 13-time Grand Slam winner will be looking to land his first ever title at the season-ending championships. Just one of his 60 career titles have come from indoor hard-court events, although it is worth taking into account that the Spaniard rarely enters them given the environment serves against his typically patient play. However, his resurgence from injury has seen a more aggressive, powerful style of play, suggesting that he is better placed to compete this year. While the ultra-competitive nature of the man means he certainly cannot be accused of giving less than 100 per cent in Paris, the motivation perhaps was not quite a strong as it will be here. A couple of wins will be enough to see him finish the season as number one while the maiden title would be the dream way to cap a stunning campaign, which has already seen him capture 10 titles.
Roger Federer (13/2)
It seems strange to be monitoring gradual improvements in the game of the sport's most successful ever player, but that is the case with Federer. A steady incline has been evident over the last couple of months, with his display in Paris the best seen since the Australian Open. He managed to avenge his defeat to del Potro in Basel with a win in Paris, where he then led Djokovic by a set and a break. That loss could prove a blessing in disguise as he gets an extra day's rest before they meet on Tuesday but the psychological edge will certainly be with the favourite. Confidence can certainly be drawn from six titles at the season-ending event, while he boasts the best indoors record of the currently active players on tour.
Juan Martin del Potro (7/1)
The powerful Argentinian has recorded a joint career best four titles in 2013 but it would be a major step up for him to make it five. The 2009 US Open triumph is his solitary success above a 500 event level, pointing to vulnerability against the top players at the business end of tournaments. Given his powerful, low-percentage game, it is no surprise that much of his success has been indoors, with five of his last eight titles coming in the environment. A final appearance in the 2009 World Tour Finals adds weight to his case, but a wretched draw has not helped his chances.
The rest
Ferrer (22/1) has once again defied the label of a clay-court specialist with his display in Paris but it has been a relatively disappointing campaign since his French Open final appearance, with defeats to six different players outside the top 20. With his typically consistent standards dropping somewhat, it would be a significant shock if he were to upset the favourites, not to mention a phenomenal physical effort. The form of Berdych (20/1) is even more concerning, with early loses in Shanghai and Basel followed by a defeat to Ferrer in Paris, an environment the powerful Czech should surely fancy himself to prevail. Stanislas Wawrinka (25/1) has shown on various occasions this season that he can put together the form to trouble those above him but tends to struggle in turning big performances into big results. Gasquet (50/1) is the big outsider having offered up little of note since his US Open semi-final run.
Best bets
Djokovic to win the title - 6/5
Djokovic to beat Federer in the final - 10/1
Watch every session of the ATP World Tour Finals - which run from November 4-11 - on Sky Sports. Click here for coverage details.
You can catch all the action from the ATP World Tour Finals with a Sky Sports Day Pass. For more information click here