World Tour Finals: Rafa Nadal learnt from his mistakes, says Boris Becker
Rafael Nadal altered his game to beat fellow Spaniard David Ferrer, Boris Becker told Sky Sports.
Last Updated: 05/11/13 6:02pm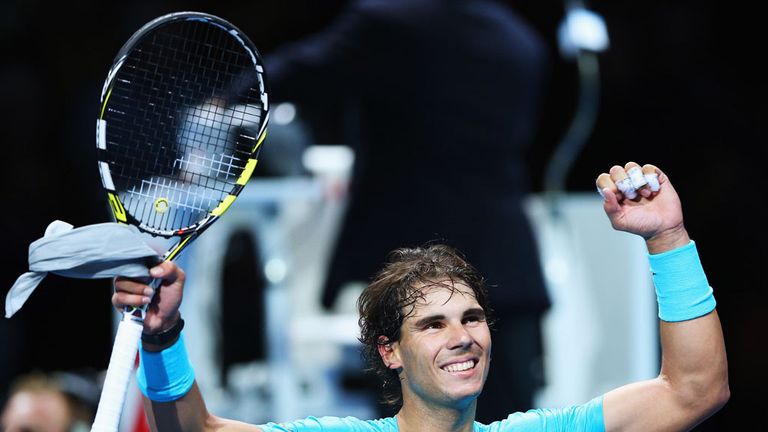 Nadal opened his account in London with a comprehensive 6-3 6-2 victory over his Spanish compatriot.
The pair also met last Saturday in Paris, where the 13-time Grand Slam champion lost 6-3 7-5 in a surprise defeat, but Becker told Sky Sports that there was no chance of a repeat at the O2 Arena as Nadal produced a tennis clinic.
"It was a masterclass by Nadal and he learned from his mistakes last Saturday," said Becker.
"He played differently; he played much higher over the net with more depth and made Ferrer hit the extra ball over and over again.
"Ferrer made too many unforced errors; he played one of the matches of his life last Saturday but he played a poor one here.
"Nadal said before this match: 'I have to change my game from Saturday'. That's the world number one saying he needs to change his game to adapt to the aggressive Ferrer game indoors, so what did he do?
"He played higher over the net and made the game a little slower. That tells any junior in the world that if Nadal has to adapt to opponents, everybody has to.
Excited
"With tennis you play against the other guy to win one more point, how you do it is your choice, so it's great experience for everybody to see how Nadal has changed from last week."
Ferrer must pick himself up after the defeat in time to play his next game against Tomas Berdych on Wednesday.
And Becker believes the world number three may have been fatigued from his hard-fought loss to Novak Djokovic in the Paris Masters final on Sunday.
Becker said: "Ferrer sounded excited to be here and one of his big goals is always to qualify for the ATP World Tour Finals.
"But having played a tough Sunday final against Djokovic and having just a day off, maybe it showed physically."
Meanwhile, Nadal - who remains on course to to finish the season as world number one - plays Stanislas Wawrinka next.
The pair have met 11 times in the past with Nadal winning all of them, but Becker believes the Swiss challenger will put up a fight.
"Having lost to Nadal 11 times it's obviously not the greatest way to go in to a match, but I think it's the best stage for him to make a change and he has had the season of his life," added the German.
"On the other hand, Nadal is playing for the number one spot so he's going to put the extra 10 per cent in that he was missing last week. I think it will be a great match."
Watch every session of the ATP World Tour Finals - which run from November 4-11 - on Sky Sports. Click here for coverage details.
You can catch all the action from the ATP World Tour Finals with a Sky Sports Day Pass. For more information click here