ATP World Tour Finals: Novak Djokovic feeling confident and positive
Rafael Nadal may have secured the No 1 ranking but Novak Djokovic looks set to be right on his tail in 2014.
Last Updated: 12/12/13 10:04am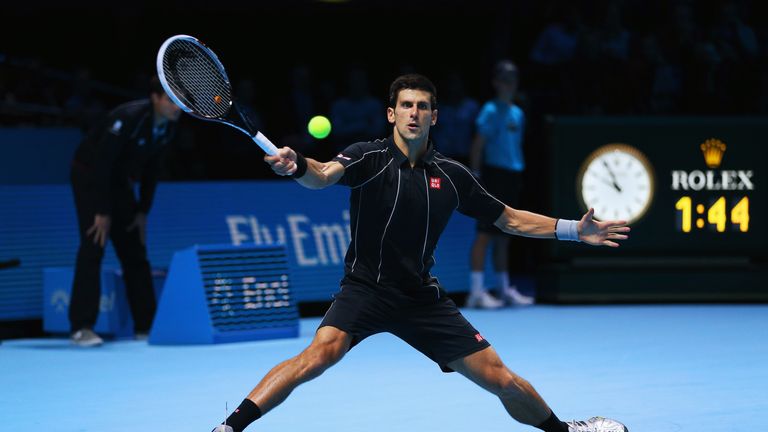 Victory for the Spaniard over Stanislas Wawrinka at the Barclays ATP World Tour Finals on Wednesday meant Djokovic was unable to overtake him during the closing days of the season.
But the Serbian is undoubtedly the form player in tennis right now and he extended his winning streak to 19 matches with a 6-3 3-6 6-3 win over Juan Martin del Potro.
That also guaranteed his place in the semi-finals at London's O2 Arena as the winner of Group B while Del Potro and Roger Federer will fight it out for the second qualifying spot on Saturday.
Asked about his ultimately fruitless pursuit of Nadal this time around, Djokovic said: "It's not frustrating for me. Actually, it's very encouraging circumstances I am in over the last two months.
"I'm playing the best tennis I think I played throughout the whole season. That's something that I take as a positive for this moment and for next season. I'm definitely feeling confident, more confident than I was a few months ago.
"Nadal has ended as world No 1 in 2013, and he deserves that. No question about it. He won two grand slams. He played the best tennis this year."
The second semi-final spot in Group A will be decided on Friday between Stanislas Wawrinka and Tomas Berdych.
Tougher
Nadal has already qualified and victory over the world number one would be enough to put Berdych through with him.
But the Czech has not beaten Nadal in their last 15 meetings dating back to 2006.
Berdych said: "It's going to be a big one, that's for sure. It's, again, the situation for me that I lost my first match and won the second. Now I'm going to fight to go through for the semis.
"I probably cannot have any tougher opponent than I have. But he's already through. He's secure for number one. You never know.
"But I know Rafa is a big fighter and he will never give a single point for free."
Wawrinka will play the first match against David Ferrer, who is out of contention after two straight-sets losses.
The Swiss is relying on Nadal to help him out after a narrow straight-sets defeat by the Spaniard on Wednesday.
But he is happy with his form and confident that a win will be enough to ensure his debut at the tournament extends into Sunday.
Wawrinka said: "I'm pretty sure that if I beat Ferrer, I'm going to make the semi-finals.
"All year I'm really positive and really happy with my level. I showed (against Nadal) that I'm playing my best tennis, that I can really, really fight, really get closer to the No 1 player, and I beat Tomas on this surface. I'm really confident with myself."
You can watch day five of the Barclays ATP World Tour Finals from noon on Friday on Sky Sports 3 HD.