ATP World Tour Finals: Roger Federer confident ahead of Juan Martin del Potro clash
Roger Federer's resurgence will be put to the test when he faces Juan Martin del Potro at the ATP World Tour Finals.
Last Updated: 09/11/13 8:05am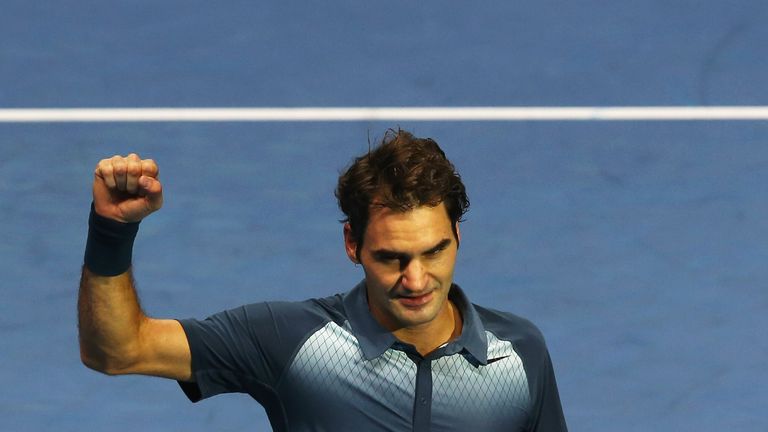 Six-time champion Federer has only once failed to reach the last four in 11 previous appearances at the end-of-season event and never at London's O2 Arena.
It says everything about the year Federer has had that Del Potro will go into the match as the favourite, but the odds are less weighted in the Argentinian's favour than they would have been a couple of weeks ago.
Although Federer is still not completely sure about his game, his confidence has been boosted by a run to the final in his home town of Basle and then a semi-final appearance at the Paris Masters in the last fortnight.
He played Del Potro in both events, losing in Basle but then winning their clash in Paris, the first time he had beaten the world number five in four matches.
Federer said: "I think the win in Paris was big for me, because he did beat me three times indoors straight, the Basel finals twice, and also here last year.
"Then I was already qualified, so those matches are hard to manage. But I tried, I fought, and he did better.
Important
"I'm glad I got one back in Paris because I knew we could be again in the same group. I think that win for me in Paris psychologically was very important (to know) I could beat top-10 guys.
"I truly believe my confidence is higher, and that's what I need to beat the best, and Juan Martin is part of that group."
Coincidentally, it is the third time in five years that Del Potro and Federer have met in a crucial final group match at the World Tour Finals.
Del Potro has won both times to book his spot in the semi-finals, although Federer also went through on those occasions.
This time there is only room for one, with Novak Djokovic already assured of top spot in Group B.
Del Potro said: "We've always played for something, which is good for your focus and with the high expectations.
"It has been a long season. I'm getting tired but this could be the last effort of the year, so I will try to enjoy it and do the best I can."
Both men have lost to Djokovic, who meets Richard Gasquet in a dead rubber, but he was not prepared to pick a likely winner.
The world No 2 said: "It's difficult to say really because all the matches that they played against each other lately have gone the distance.
"Roger is definitely playing better than he was throughout the whole year. He loves these conditions. He likes this court. But Del Potro has a big serve. I expect a three-set battle. I can't pick the winner."
You can watch day six of the Barclays ATP World Tour Finals from noon on Saturday on Sky Sports 3 HD.