Barclays ATP World Tour Finals: Novak Djokovic faces Stanislas Wawrinka in second semi-final
Defending champion Novak Djokovic takes on Stanislas Wawrinka for a place in the Barclays ATP World Tour Final.
Last Updated: 10/11/13 1:22pm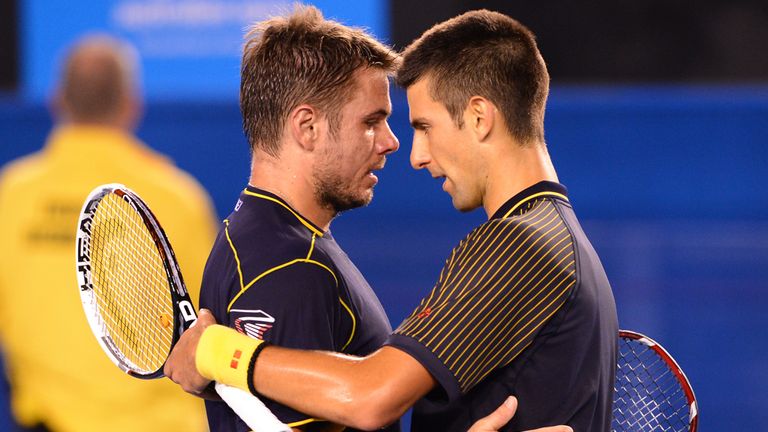 World No 2 Djokovic, bidding for a third Tour Finals title, will go into this mouthwatering contest on a remarkable 20-match winning run.
He last tasted defeat in the US Open final to Rafael Nadal, but next faces a buoyant Wawrinka, who has made the last four on his debut.
The Serb, who has racked up 70 wins for the third straight year, qualified for the last four as group winner and has won his last 13 matches against Wawrinka dating back to 2006, including a pair of epic five-set clashes at the Australian and US Opens this year.
He defeated Roger Federer, Juan Martin del Potro and Richard Gasquet in his three round-robin matches and is now eyeing up a spot in the season finale in London once again on Monday evening.
Capital Punishment
The six-time Grand Slam champion has already beaten Wawrinka three times this year.
His most recent victory came at the Paris Masters last week when the Serb swept past his opponent with a rapid-fire 6-1 6-4 success.
And Djokovic is hoping to dish out some more capital punishment at London's O2 Arena.
"Hopefully I can perform against Stan as well as I did last week in Paris," said the 26-year-old.
Wawrinka, who has enjoyed the most successful year of his career, reached the semi-finals courtesy of Nadal's victory over Tomas Berdych, which helped him secure second spot in Group A.
"It's been an amazing week for me already. I beat Berdych, David Ferrer and I lost a tough one against Nadal. It was quite good level for me, that's the most important," said the 28-year-old from Lausanne.
Wawrinka will finish inside the world's top 10 for the first time in his career and has one tour victory to his name in 2013, beating David Ferrer in Oeiras, Portugal.
An appearance in the final on Monday night would represent an astonishing end to the year for the Swiss No 2.
"I lost against him (Djokovic) quite easy last week in Paris," said seventh-seeded Wawrinka. "He was playing really good. But I had the feeling when I arrive here, for me, because I didn't play here, it was a little bit like Davis Cup.
"You have important match against big player, but if you lose the first one, you're not out of the competition."
The winner will face world No 1 Rafael Nadal or six-time Tour Finals champion Roger Federer in the final.